California Legislature Recommend a $50 million Increase in ASES Funding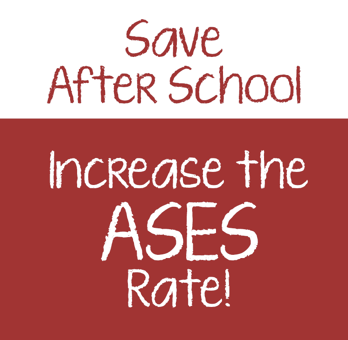 The Budget Conference Committee voted Thursday night to provide an additional $50 million in ongoing funding for ASES. This is not a done deal until Governor Brown signs the budget, but the Administration publicly supported the Conference Committee's action last night (which included increased funding for ASES), so we are hopeful. The full Senate and Assembly will vote on the full budget package next week, and then it will head to the Governor for his approval. We will send you an update as soon as we hear from the Governor. Read the full press release here.
This would not have been possible without all of your collective efforts for the past 3 years – THANK YOU! Celebrate that your voice, the voice of our students and communities, and taking action matters.
Help us cross the finish line! 
Hop on social media today and next week to: 
Thank Senator Leyva, Senate and Assembly Leadership, and Budget Conferees for prioritizing ASES this year:
Sen. Leyva – @SenatorLeyva 
Sen. Mitchell – @HollyJMitchell 
Asm. Ting – @PhilTing 
pro Tem de Leon – @kdeleon or @CAproTem 
Speaker Rendon – @Rendon63rd 
Asm. McCarty – @AsmKevinMcCarty 
Sen. Lara – @RicardoLara4CA 
Asm. Weber – @AsmShirleyWeber 
Sen. Roth – @GeneralRoth 
Sample posts/Tweets: 
Thank you @SenatorLeyva for being the champion for over half a million CA kids who rely on #afterschool. Couldn't have gotten here w/o you!
Thank you @________ for prioritizing after school. We couldn't have gotten here without you. #SaveAfterSchool
After a decade w/o additional funding, thank you @________ for supporting an increase to help keep the doors open for #afterschool.
Thank you @_________ for listening to the tens of thousands of Californians who support after school. #SaveAfterSchool
Thank you @__________ for taking action to help #SaveAfterSchool. We couldn't have gotten here without you. 
Urge the Governor to accept the Legislature's appropriations for ASES:
Sample posts/Tweets:  
Grateful to CA Legislature for recognizing the critical role of ASES programs. Excited for @JerryBrownGov to take us over the finish line!
Thank you CA Legislature for hearing our voices. Looking forward to @JerryBrownGov's signature to #SaveAfterSchool for 600,000 kids. 
Almost there. Looking forward to @JerryBrownGov's signature to #SaveAfterSchool & keep the doors open for 600,000 kids.
Thank your local member(s) for their support throughout the year:  
Sample post/Tweet: 
The [XXX number] kids & families in [Your Program] thank you, @[Member], for working to #SaveAfterSchool! 
STAY TUNED for updates next week! And THANK YOU again for your incredible support and advocacy!  
To learn more about the ASES campaign, and how you can get involved, visit www.saveafterschool.com.