Learning In Afterschool & Summer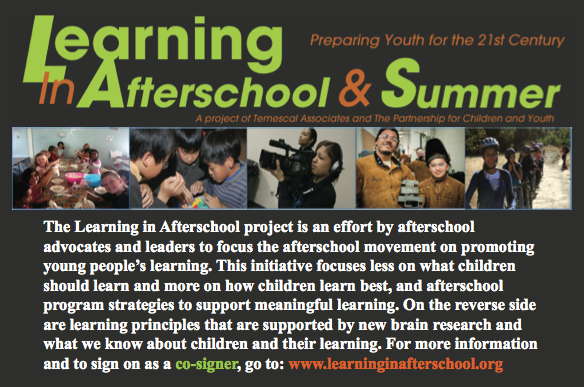 The Learning in Afterschool & Summer Project (LIA) is an effort by afterschool advocates and leaders to unify the field of afterschool and focus the movement on promoting young people's learning. This means offering opportunities not found at home or in school and applying our most recent knowledge on learning to our afterschool practices.
The idea of promoting young people's learning and broader development after the classroom day is not new. What is new is the vast number of children who are now able to access afterschool programs. We believe that afterschool programming is a unique institution that must offer more than safe havens or homework help after school. If afterschool programs are to achieve their true potential, they must become known as important places of learning – learning that complements, but is distinguished from, the learning that happens at school or home.
The goal of the Learning in Afterschool & Summer project is to position afterschool programs as places for learning. The project will draw upon an extensive and growing body of research and be informed by the national discussions on education reform and youth development. Achieving this goal will require the incorporation of specific learning principles and approaches in the definition and expectations of afterschool programs, and acceptance by a broad array of stakeholders.