Site Coordinator Expanded Learning Symposium
Hilton Arden West, Sacramento CA October 20th & 21st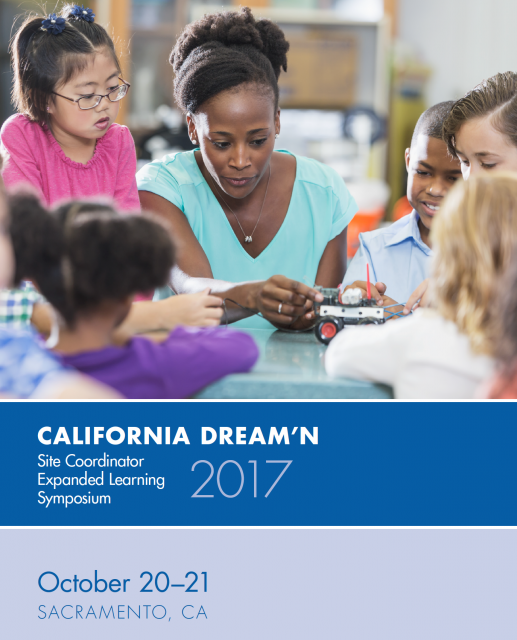 This event has sold out and registrations are no longer being accepted. We look forward to seeing our registered participants there!
Diverse statewide partners are excited to announce the first ever statewide symposium focused on Expanded Learning Site Coordinators.
California Dream'n – a statewide Site Coordinator Expanded Learning Symposium is to be held on October 20th and  21st, 2017 in Sacramento, CA. This event is intended to be a convening of Site Coordinators, for Site Coordinators. The symposium focuses on the innovation that occurs every day in expanded learning sites across California. Topics to be covered may include Continuous Quality Improvement (CQI), effective site leadership, inspiring and supporting line staff, school and district partnership, and innovative practices related to the Quality Standards for Expanded Learning in California; as well as cutting edge topics such as Summer Learning, Social-Emotional Learning (SEL), and Science, Technology, Engineering and Math (STEM). Multiple levels of leadership are encouraged to attend and participate in a leadership track focused on effective strategies to support the success of Site Coordinators, K-12 and expanded learning partnerships, partnerships supporting SEL, family engagement, and alternative funding sources.
WHO WILL PRESENT?
All levels of leadership will share best practices in maximizing the impact of expanded learning programs in all settings, including: district, community-based, and summer learning programs. 
WHO SHOULD ATTEND?
Site Coordinators, Program Directors, Grant Managers, Technical Assistance Providers, District and County Office of Education staff, Community Based Organization leaders, and all stakeholders committed to helping young people flourish in expanded learning programs.
ACCOMMODATIONS
The room block for Hilton Arden West in Sacramento is closed, and no longer accepting reservations at a discounted rate.
Questions?
Contact Troy Selvey at tselvey@afterschoolnetwork.org