CAN Leadership Team Application 2017-18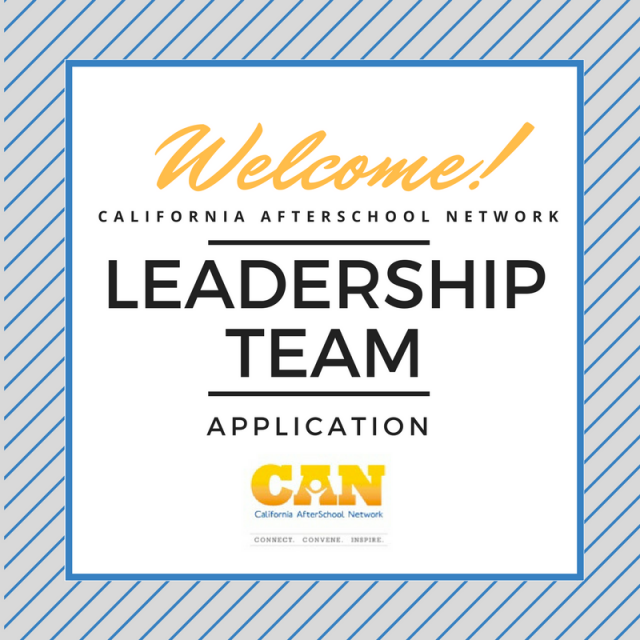 Thank you for your interest in CAN Leadership Team Membership. Following is all the information you will need to apply to the CAN Leadership Team during the 2017-18 recruitment process. 
Background          
The California AfterSchool Network is seeking 6 – 8 new Leadership Team Members (Leaders). The California AfterSchool Network is a geographically, professionally, and culturally diverse group of out-of-school time stakeholders charting the course for CAN. CAN has an annual process of new Leader recruitment that takes place in January of every year.  A full description of the Leadership Team Member roles and responsibilities is outlined in the CAN Leadership Team Commitment Agreement (attached), and Leaders participate consistent with CAN's Conflict of Interest Policy (attached). 
About California AfterSchool Network Leadership       
The Leadership Team is the primary governing body of the California Afterschool Network. CAN's Leadership Team consists of field stakeholders that guide all aspects of CAN's work including its strategy, procurement and use of resources, Leadership Team and Field Committee operations, as well as Executive Director support. Leaders serve for three-year terms and participate in Leadership Team meetings as well as one of three standing "Leadership Committees." These three Standing Leadership Committees include the Finance Committee, Strategy Committee, and Leadership Development Committees. 
Application and supporting materials
Attached you will find the following materials referenced in the CAN Leadership Team Application including:
To apply, complete the application survey (estimated time 30-45 minutes) and submit (upload) your resume before the February 17, 2017 deadline. You will have an opportunity to upload your resume at the end of the application survey. 
Application and decision-making timeline  
January 17, 2017 – CAN Leadership Team Application released. 
February 17, 2017 – CAN Leadership Team Application submission deadline. 
March 2017 – CAN Leadership Team approves slate of 6 – 8 new Leaders. 
June 14 – 15, 2017 – CAN New Leader Orientation and Leadership Team meeting. 
Three year term begins July 1, 2017 and ends June 30, 2020. 
CAN Leadership Team 2017-18 meeting dates          
Be sure to hold the following dates of the 2017-18 CAN Leadership Team Meetings on your calendar. Note: all meetings take place from 10am – 4pm.
June 14-15, 2017 (two day meeting includes new Leader Orientation)
September 22, 2017
December 4, 2017
March 29, 2018
June 18-19, 2018
Thank you for your interest! Please contact Jeff Davis, Executive Director of the California AfterSchool Network with any questions at jdavis@afterschoolnetwork.org