CAN is Seeking a Program Specialist
Are you the next member of the CAN team?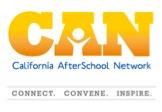 Are you interested in making a statewide impact with your work? Would you like to be part of a statewide effort to build field capacity to implement Continuous Quality Improvement (CQI)? Do you have the passion to support California's After School Education and Safety and 21st CCLC Site Coordinators? Would you like to advance effective policies that support out-of-school time learning and enrichment opportunities? If so, you might be CAN's next team member. CAN is currently seeking a Program Specialist. Learn more about the position and how to apply.