Every Student Succeeds Act: Opportunity to inform CA State Plan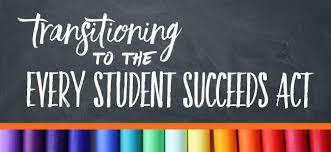 The U.S. Department of Education (ED) Releases Final Regulations for Accountability, State Plans, and Data Reporting
ED recently released the final regulations for implementing the accountability, state plan, and data reporting provisions of the Every Student Succeeds Act (ESSA). The new federal education law requires State Education Agencies (SEAs, i.e. the California Department of Education) to have an accountability system that is State-determined and based on multiple indicators, including, but not limited to, at least one indicator of school quality or student success and, at a State's discretion, an indicator of student growth. The ESSA also significantly modified the requirements for differentiating among schools and the basis on which schools must be identified for further comprehensive or targeted support and improvement. Additionally, the ESSA gives SEAs and local educational agencies (LEAs) discretion to determine the evidence-based interventions that are appropriate to address the needs of identified schools.  
The California Department of Education is seeking public input on its State ESSA Plan via online survey by December 9th. For more information, access the CDE's Stakeholder Engagement – Phase II Toolkit Web page, and the California Department of Education ESSA Web page.