Register for the California Department of Education Expanded Learning Programs 2017 Grantee Orientations!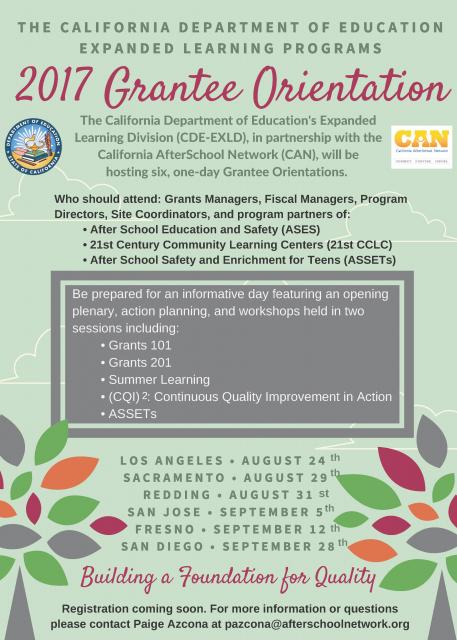 The California Department of Education's Expanded Learning Division, in partnership with the California AfterSchool Network, will be hosting six, one-day Grantee Orientations for After School Education and Safety (ASES) and 21st Century Community Learning Centers (21st CCLC) Grantees.  Be prepared for an informative day featuring an opening plenary, action planning and workshops held in two sessions, including Grants 101, Grants 201, Summer Learning, CQI2, and ASSETs.
 Orientations will take place in:
Registration is now open. Click the individual event pages above to register.  Access the grantee orientation event schedule here. For more information or any questions, please contact Paige Azcona at pazcona@afterschoolnetwork.org. 
Workshop Content
Grants 101: What Everyone Ought to Know
Topic:  Basic Grant Requirements
Description: From program elements to reporting requirements, this informative workshop will provide you with the key requirements of ASES, 21st CCLC, and ASSETs grants. Attendees will hear from members of the CDE technical assistance team regarding program operations, fiscal and attendance requirements, accountability, available resources, and quality programming. This workshop is geared towards new personnel or those wanting a refresher! All levels are welcome– grant managers, site coordinators, frontline staff, district personnel or anyone else responsible for monitoring or operating an expanded learning program.
Grants 201: Beyond the Basics
Topic:  Attendance, Reductions, Reporting, and ASSIST
Description: Designed to dig deeper into basic program requirements, this interactive workshop will walk you through understanding the relationship between your funding amount, the number of students to be served, and your daily enrollment. You will also go through a full breakdown of how the reduction process works from calendar year vs. fiscal year, the annual student attendance percentage attained, and understanding the 75% and 85% rule requirements. We will also be walking and exploring the external grantee ASSIST web portal to highlight new report features as well a general review of the ASSIST functions.
Summer, Summer, Summertime: Not Time to Sit Back and Unwind
Topic:  Summer Learning Opportunities
Description: Take a seat around the campfire and explore key steps to designing a high-quality summer learning program.  Participants will swim around a pool of topics surrounding program plans, program design schedules, funding and requirement, and FAQ's to support Summer grantees.  Participants will get a chance to share best practices and strategies for summer learning opportunities for youth.  Participants will leave this workshop with resources and information on how to develop s'more  high-quality summer learning program. 
(CQI)²: Bringing Quality and Innovation to Life
Topic:  Quality Standards and Continuous Quality Improvement
Description: Starting with the Quality Standards for Expanded Learning, participants will discover how a Continuous Quality Improvement Process (CQI) fosters innovative expanded learning programs. Participants will share and/or take away promising practices for implementing CQI at their sites and discover how Access, Plan, and Improve does not have to be complicated, but rather a way to lead a program to it's highest quality. 
Designing Your Roadmap for a Quality ASSETs Program
Topic:  The After School Safety and Enrichment for Teens (ASSETs) Program
Description: Creating a dynamic ASSETs program is essential to continuous student participation. In this participatory workshop new grantees will discover ways to activate youth in program design, veteran grantees will uncover valuable insights from the action planning process, and everyone will walk away with a few new tools for continuous program improvement in the development of high quality ASSETs programs.  Participants will learn how to engage older youth, coordinate resources, and use data to improve program design. Through an interactive process, participants will learn what works and what pitfalls to avoid in ASSETs programming, connect with their ASSETs peers, and learn how to use a decision-making tools to enhance your program outcomes. Come prepared to learn and share.