2022-23 Application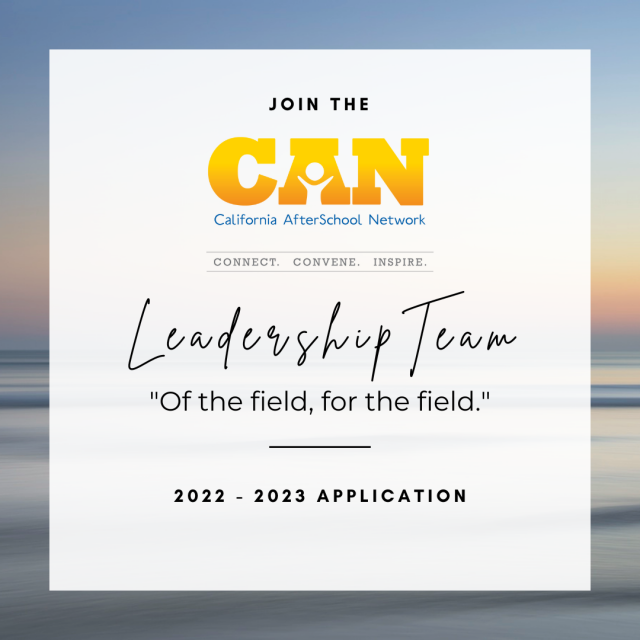 The CAN Leadership Team application has closed.
Thank you for your interest in serving on the CAN Leadership Team. Outlined below is the necessary information needed to apply to the CAN Leadership Team during the 2022-2023 recruitment process.
About California AfterSchool Network Leadership
The California AfterSchool Network Leadership Team is a geographically, professionally, and culturally diverse group of out-of-school time(OST*), including Expanded Learning(*1) stakeholders charting the course for CAN. As the primary governing body of CAN, the Leadership Team guides all aspects of CAN's work including its strategy, procurement, and use of resources, Leadership Team and Field Committee operations, as well as Executive Director support. Leaders serve for three-year terms and participate in one of the three standing Leadership Committees. The three standing Leadership Committees include the Finance Committee, Strategy Committee, and Leadership Development Committee.
CAN is Seeking New Leaders
CAN has a biannual process for recruiting new Leadership Team Members (Leaders) that begins in December during recruitment years. This year, CAN is seeking 7 new Leaders. Yes, we are looking for you! We seek diverse perspectives related to advancing out-of-school time in California. No matter what level of leadership or expertise you have something to offer. Your voice and perspective are more than enough, to begin leading today!
Application Process & Next Steps
This application includes multiple sections. You will have the opportunity to save your application and return to the process from the same device if needed. Additionally, you will have an opportunity to upload a resume as part of the application process.
We have linked resources below to help familiarize applicants with the California AfterSchool Network's scope of work and support the new Leadership Team member application process:
The estimated application completion time is 30-45 minutes. Complete the application survey and submit (upload) your resume before the February 2023 deadline. You will have an opportunity to upload your resume at the end of the application survey.
Application and Decision-Making Timeline
November 2022 – February 28, 2023: The application is open
February 28, 2023 – April 2023: Application Review and Selection Process
May 2023: New CAN Leaders are selected and announced
What to Expect During the Leadership Team Onboarding Process and Year 1
Selected applicants who become new Leadership Team members can ensure their success as a CAN Leader and will be supported with an orientation of CAN's work. Additionally, new leaders will be paired with an existing member of the CAN Leadership Team as a "Peer Support Provider," to support their learning and growth as a CAN Leadership Team member.
Now, click next to begin completing the application.
The submission deadline has been extended from February 28 to March 21, 2023.
Questions? Please contact Jeff Davis, Executive Director of the California AfterSchool Network with any questions.
Thank you for your interest!
The California AfterSchool Network (CAN) Leadership Team