Girls Inc. of Alameda County Program Leader Apprenticeship Program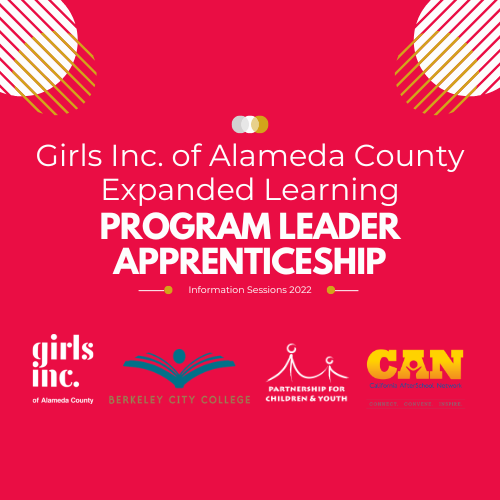 We are excited to share that Girls Inc. of Alameda County is partnering with Berkeley City College, the Partnership for Children and Youth, and the California Afterschool Network to launch our Expanded Learning Program Leader Apprenticeship in January 2023!
This 2-year program provides an opportunity for people who are interested in starting or advancing their career in Expanded Learning / After School Programs through paid work with Girls Inc. of Alameda County. Additionally, participants will receive focused support in free college courses to earn 48 transferable units and a Childcare Permit, with an option to pursue an Associate Degree.
Information Session Objectives on the Girls Inc. of Alameda County Program Leader Apprenticeship Program​:
Learn about the apprenticeship program
Learn how the program can benefit you
Understand the program requirements
Understand the process and next steps
Hosted by Girls Inc. of Alameda County in partnership with Berkeley City College, Partnership for Children and Youth, and the California Afterschool Network