CAN Leadership Team Application 2019-20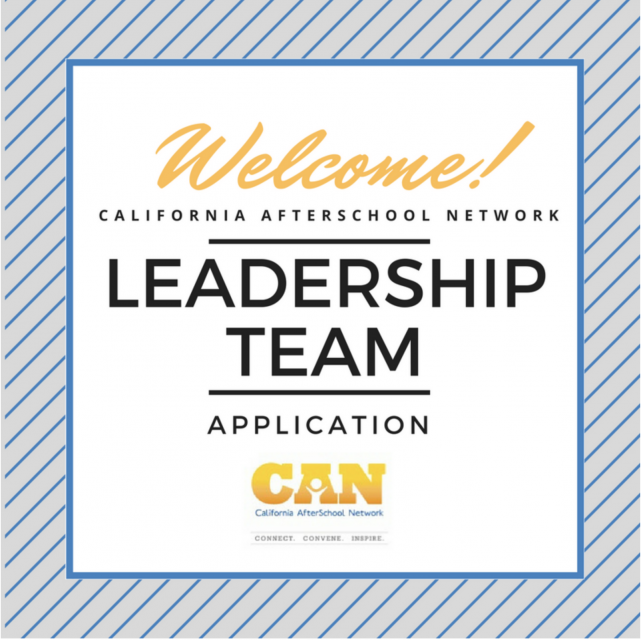 Thank you for your interest in CAN Leadership Team Membership. Following is all the information you will need to apply to the CAN Leadership Team during the 2019-20 recruitment process.
Background
The California AfterSchool Network is seeking 6 – 8 new Leadership Team Members (Leaders). The California AfterSchool Network is a geographically, professionally, and culturally diverse group of out-of-school time stakeholders charting the course for CAN. CAN has a semi-annual process of new Leader recruitment that begins in January of recruitment years. A full description of the Leadership Team Member roles and responsibilities is outlined in the CAN Leadership Team Commitment Agreement (attached), and Leaders participate consistent with CAN's Conflict of Interest Policy (attached).
About California AfterSchool Network Leadership
The Leadership Team is the primary governing body of the California Afterschool Network. CAN's Leadership Team consists of field stakeholders that guide all aspects of CAN's work including its strategy, procurement and use of resources, Leadership Team and Field Committee operations, as well as Executive Director support. Leaders serve for three-year terms and participate in Leadership Team meetings as well as one of three standing "Leadership Committees." These three Standing Leadership Committees include the Finance Committee, Strategy Committee, and Leadership Development Committees. Some Leadership Team members also co-chair CAN's Action Teams (e.g., Site Coordinator Work Group, Nutrition and Physical Activity Action Team).
Application and supporting materials
Attached you will find the following materials referenced in the CAN Leadership Team Application including:

CAN Strategic Plan 2017-2020
CAN Leadership Team Commitment Agreement
CAN Conflict of Interest Policy

To apply, complete the application survey (estimated time 30-45 minutes) and submit (upload) your resume before the February 8, 2019 deadline. You will have an opportunity to upload your resume at the end of the application survey.
Application and decision-making timeline
January 14, 2019 - CAN Leadership Team Application released.
February 8, 2019 - CAN Leadership Team Application submission deadline.
March 2019 - CAN Leadership Team approves slate of 6 – 8 new Leaders.
June 13 - 14, 2019 - CAN Leadership Team Retreat and New Leader Orientation.
Three year term begins July 1, 2019 and ends June 30, 2022.
CAN Leadership Team 2019-20 meeting dates
Be sure to hold the following dates of the 2019-20 CAN Leadership Team Meetings on your calendar. Note: all meetings take place from 10am – 4pm.
June 13-14, 2019 (two day meeting includes new Leader Orientation)
September 19, 2019
December 12, 2019
March 12, 2020
June 11 – 12, 2020
Why do CAN Leaders Lead?
Hear from some of CAN's current and former Leaders (view a list of CAN's current Leaders)
"I greatly appreciate being on the CAN Leadership Team for it provides me an terrific opportunity to play a role in helping shape the direction and potential of our collective expanded learning efforts. The synergy of teaming with such a dedicated group of creative leaders from throughout the state has been inspiring." -Stu Semigran, Co-Founder, President of the EduCare Foundation
"My role as a leader is to serve others. Through service, I strive to set an example, to foster a collaborative and inclusive culture, and create the conditions that empower others to realize their potential." -Jason Riggs Executive Director, Extended Child Care Coalition of Sonoma County
"Serving as a member of the CAN Leadership Team has afforded me an opportunity to engage with other state leaders to set the vision for the future of Expanded Learning programs in California. I count the time I spend with CAN Leadership as a unique privilege and positive rewarding experience." -Jeff Hamlin, Consultant, Expanded Learning Services, Region 8 Ventura County Office of Education
"I lead because someone took the time and effort to see the leadership potential in me and then fostered it. I continue to lead so the potential in others can achieve great and amazing things for our young people." -Frank Escobar, Program Manager, Visalia Unified School District and former Leadership Team Co-chair.
Questions?
Thank you for your interest! Please contact Jeff Davis, Executive Director of the California AfterSchool Network with any questions at jdavis@afterschoolnetwork.org