CAN Leadership Team Application 2020-2021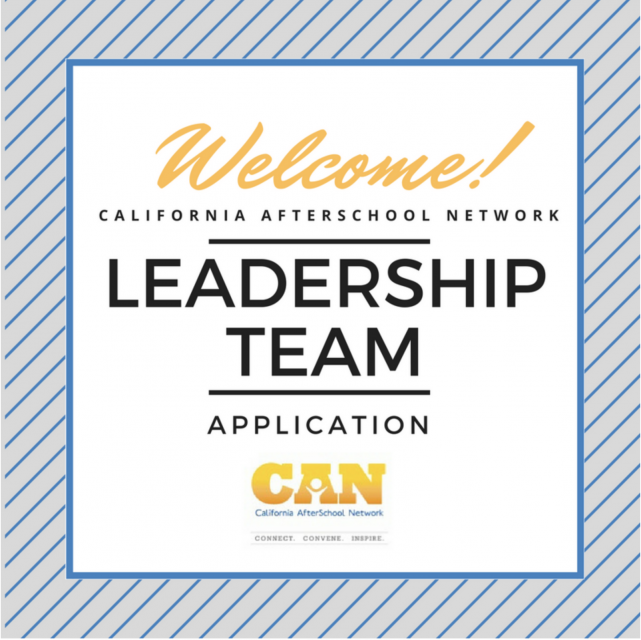 Thank you for your interest in serving on the CAN Leadership Team​.
Outlined below is the necessary information needed to apply to the CAN Leadership Team during the 2020-2021 recruitment process.
About California AfterSchool Network Leadership
The California AfterSchool Network Leadership Team is a geographically, professionally, and culturally diverse group of out-of-school time stakeholders charting the course for CAN. As the primary governing body of CAN, the Leadership Team guides all aspects of CAN's work including its strategy, procurement and use of resources, Leadership Team and Field Committee operations, as well as Executive Director support. Leaders serve for three-year terms and participate in one of the three standing Leadership Committees, or serve as a co-chair for one of CAN's Action Teams (e.g., Site Coordinator Work Group, Whole Child Health and Wellness Action Team). The three standing Leadership Committees include the Finance Committee, Strategy Committee, and Leadership Development Committee.
CAN is Seeking New Leaders
CAN has a biannual process for recruiting new Leadership Team Members (Leaders) that begins in December during recruitment years. This year, CAN is seeking 7 new Leaders. Yes, we are looking for you! We seek diverse perspectives related to advancing out-of-school time in California. No matter what level of leadership or expertise you have something to offer.
Attached you will find additional documents to help familiarize you with the California AfterSchool Networks scope of work and support the new Leadership Team member application process:
Application and Decision-Making Timeline
December 3, 2020 – CAN Leadership Team Application released.
February 19, 2021 – CAN Leadership Team Application submission deadline; review process begins. (deadline extended to February 19th)
February/ March 2021 – New Leader selection process begins
March/ April 2021 – Applicant Interviews and CAN Leadership Team approves slate of 7 new Leaders.
May, 2021 – Orientation and Mentor/Support Plan for new Leaders begins.
June 3 & 4, 2021 – CAN Leadership Team Retreat and New Leader Orientation.
Three year term begins July 1, 2021 and ends June 30, 2024.
What to Expect During the Leadership Team On Boarding Process and Year 1
Your voice and perspective are more than enough to begin leading today. However, to ensure your success in this role, you will be supported with an orientation of CAN's work and your role as a CAN leader. Additionally, you will be paired with an existing member of the CAN Leadership Team as a mentor to support your learning and growth as a CAN Leadership Team member.
CAN Leadership Team 2021-22 Meeting Dates
As outlined in the CAN Leadership Team Commitment Agreement, the Leadership Team meets virtually, on a monthly basis. Additionally, Leadership Team subcommittees meet on a monthly basis and the schedule of those meetings will be provided during the onboarding process. Be sure to hold the following dates for the 2021-22 CAN Leadership Team Meetings on your calendar. Note: all meetings take place from 9 AM – 11 AM.
June 3 & 4, 2021 (New Leaders Orientation; partial days)
July 23, 2021
August 20, 2021
September 17, 2021
October 22, 2021
November 19, 2021
December 17, 2021
Why do CAN Leaders Lead?
Hear from some of CAN's current and former Leaders (view a list of CAN's current Leaders)
" I lead because I believe in the power of collaboration and serving the 'whole child' in order for youth to reach their full potential. Serving on the CAN Leadership Team has gifted me the opportunity to collaborate statewide in building partnerships that foster the coordination of services and opportunities for youth and families to succeed." -Christina Sepulveda, Vice President, Boys & Girls Clubs of Garden Grove and Leadership Team Co-chair
"My role as a leader is to serve others. Through service, I strive to set an example, to foster a collaborative and inclusive culture, and create the conditions that empower others to realize their potential." -Jason Riggs Executive Director, Extended Child Care Coalition of Sonoma County and former Leadership Team Co-chair.
"My purpose and passion for almost half a century has been to support kids and adults in finding simple yet powerful ways to live healthier, happier and more balanced lives. As an early provider of healthy behaviors afterschool programs, I embraced every opportunity I could to promote and integrate fitness and wellness into schools and in out-of-school programs. I was honored to be a CAN Leadership Team member for many years because I was able to bring a steadfast voice on behalf of healthy kids and adults and to ensure that overall health and well-being was always part of the conversation." -Normandie Nigh, CEO, A World Fit For Kids!
"Serving as a member of the CAN Leadership Team has afforded me an opportunity to engage with other state leaders to set the vision for the future of Expanded Learning programs in California. I count the time I spend with CAN Leadership as a unique privilege and positive rewarding experience." -Jeff Hamlin, Consultant, Expanded Learning Services, Region 8 Ventura County Office of Education
"I lead because someone took the time and effort to see the leadership potential in me and then fostered it. I continue to lead so the potential in others can achieve great and amazing things for our young people." -Frank Escobar, Program Manager, Visalia Unified School District and former Leadership Team Co-chair.
Questions?
Thank you for your interest! Please contact Jeff Davis, Executive Director of the California AfterSchool Network with any questions.