Local, Statewide and National Events!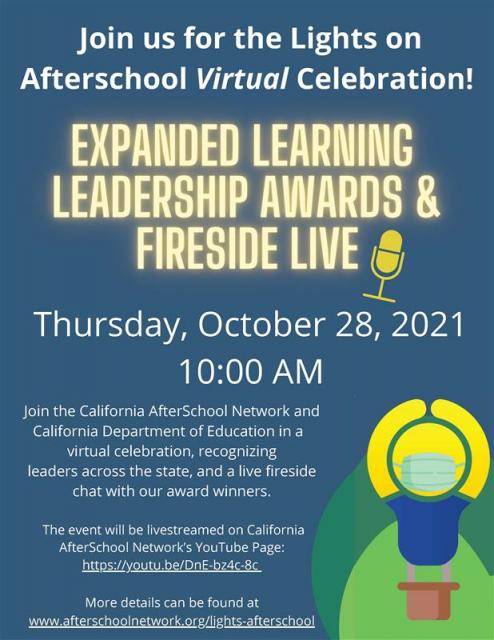 California Events
Thursday, October 28, 2021, 10:00 AM
Join the California AfterSchool Network and California Department of Education in a virtual celebration, recognizing leaders across the state, and a live fireside chat with our award winners.
Access a PDF of this flyer to share with your networks!
Thursday, October 28, 2021, 4:00 PM- 5:00 PM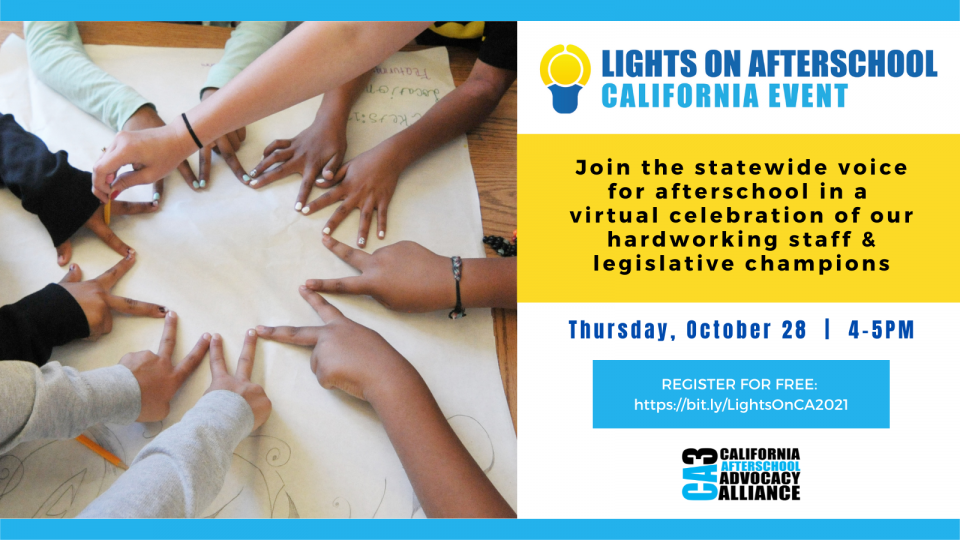 Join the California Afterschool Advocacy Alliance, also known as CA3, on Oct 28, for a virtual celebration and hear directly from students, our hardworking program staff, and elected officials about their experiences this past year, and their plans and hopes for the future of afterschool in California!
Register for free: https://bit.ly/LightsOnCA2021 – This event has passed.
National Events
Monday, October 25, 2021, 6:00 pm ET
Lights On Afterschool: River City Drumbeat
This event kicks off the Afterschool Alliance's 22nd annual Lights On Afterschool, the nation's celebration of afterschool programs. Join the Afterschool Alliance in conversation with River City Drum Corp as they watch short clips from the film River City Drumbeat, and discuss aspects of the program and its impact. River City Drumbeat is a new documentary about the River City Drum Corp afterschool program and its powerful story of music, love, and legacies!
Don't miss out on this unique opportunity and register today! – This event has passed.
Tuesday, October 26, 2021, 4:00 pm- 5:30 pm ET or 7:00 pm- 8:30 pm
MIC DROP! A Lights On Celebration of Youth Voice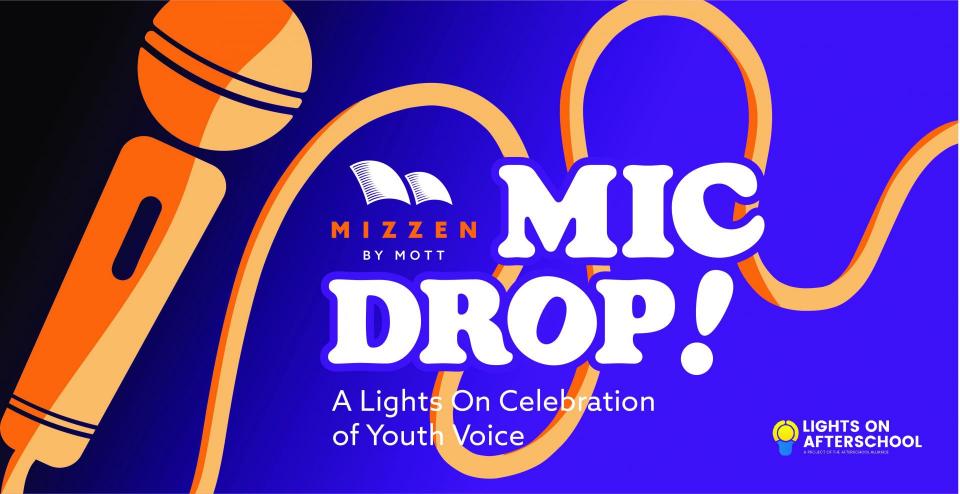 Join Mizzen by Mott on October 26, 2021, to celebrate and showcase the stories and aspirations of young people participating in high-quality creative youth development programs and experiences in afterschool programs across the country! This event will include a livecast from Los Angeles with streamed and recorded performances from around the country! Join the fun!
Sign up for MIC DROP today - This event has passed.
1:00-2:30 p.m. PST for Central and East Coast Programs
4:00-5:30 p.m. PST for Pacific, Mountain, Hawaii, and Alaska programs
Thursday, October 28, 2021, 6:00 pm ET
Lights On Afterschool Youth Town Hall!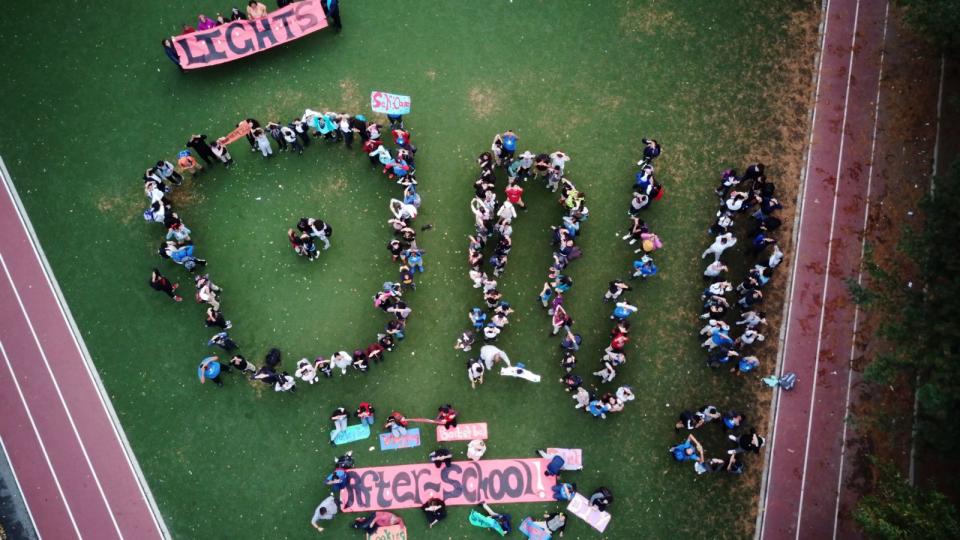 In this webinar, youth from programs around the country will share reflections on the past year and a half and how their afterschool programs have impacted their lives, perspectives on what youth need to thrive, and hopes for the future. A special segment will be devoted to recognizing the powerful role of afterschool program staff and mentors in shaping the lives of young people.
Featured Speakers
This event has passed.
Friday, October 1, 2021, 12:00PM PDT
CAN, in partnership with the BOOST Collaborative and the Afterschool Alliance are excited to announce a free online #BOOSTtraining, "Advocacy for ALL." This training will focus on:
What Advocacy means
How you can be an advocate for your communities
How to leverage events like Lights On Afterschool to support your advocacy efforts.
Registration is closed for this past event.
Local Events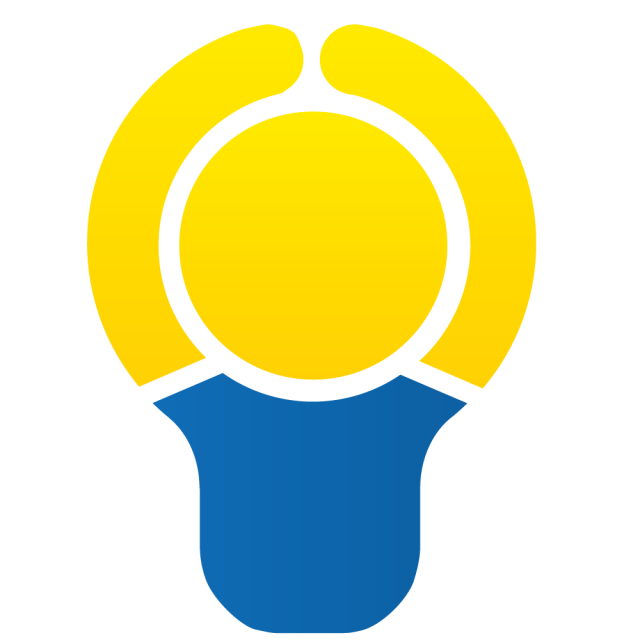 Hundreds of programs will also celebrate keeping the Lights On Afterschool with local events - showcasing their programs to the public with youth performances, informational presentations, and other activities highlighting what the programs offer to children and youth.