We're Hiring A Program Specialist!
Join the CAN Team!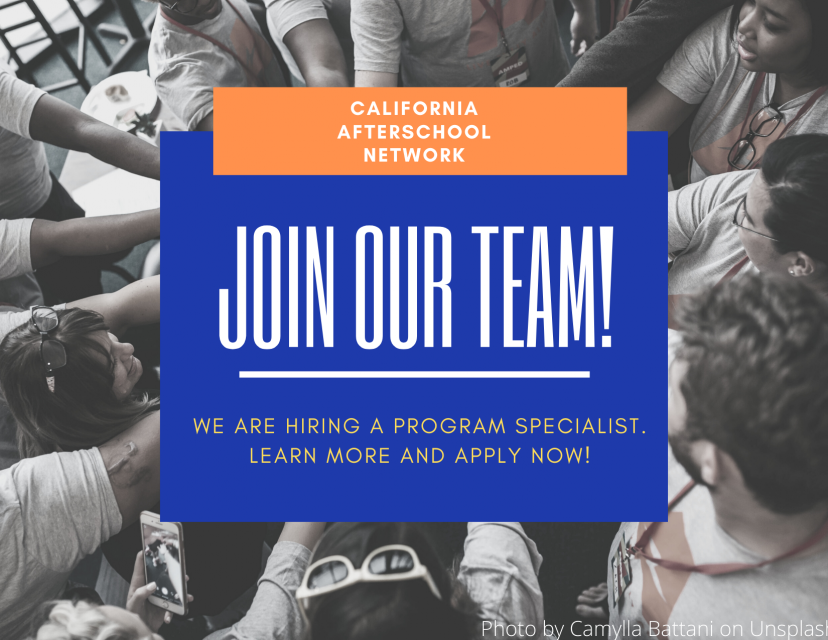 CAN is excited to announce we are hiring a Program Specialist to join the CAN team!
The Program Specialist will be a part of our Equity and Quality team, but will help support the work of the entire organization. In many ways, the CAN team operates like a small startup where every day is an adventure!
For this role, we are looking for someone with the following qualities:
A team player that is flexible/adaptable.
Experience in and commitment to the out-of-school time/youth development field.
Ability to work both independently and collaboratively, taking the initiative to support the work of the whole team.
Committed to learning, growth, and responsiveness to feedback – we are a team dedicated to continuous quality improvement (CQI).
Strong attention to detail and project management skills.
Strong communication skills including verbal and written.
An example of potential duties for this role include:
Facilitate the efforts of the statewide Workforce Implementation Committee, it's Co-chairs, and CAN's partners at the California Department of Education
Co-design and coordinate with Committee Co-chairs and other CAN team members to set annual calendars, arrange for speakers, ensure meeting materials are prepared in advance, and implement Committee communications.
Work closely with the CAN Program Directors and Executive Director, along with statewide expanded learning (after school and summer learning) stakeholders and practitioners to develop, lead and support multi-faceted, multi-stakeholder initiatives (statewide, regionally, and locally), specifically related to supporting the Expanded Learning Workforce.
Represent CAN publicly when necessary including participation at stakeholder meetings, providing conference workshops and presentations, delivering training and professional development, and attending statewide and national conferences.
Assists in policy research, analysis, and dissemination generally, and more specifically associated with workforce initiatives.
For more details please access the full job description.
Location – Remote/California
This position is open to anyone within California. With the onset of COVID-19, our team has moved to a fully remote work environment and expects to operate this way indefinitely. As COVID-19 subsides we will eventually return to a hybrid model of supporting the field both virtually and in-person, and each team member will be expected to travel throughout the state and attend certain meetings in Sacramento.
Salary and Benefits
The salary for the Program Specialist position is $65,000 annually. The excellent benefits package currently includes eleven paid holidays, sick, and vacation leave; medical, dental, and vision insurance, an employee assistance program; and a defined benefit retirement plan (CalPERS).
Equitable Hiring Practices
The Foundation for California Community Colleges is working to ensure hiring practices are more equitable. Names, educational institutions, etc. are removed from applications to help reduce implicit bias in the hiring process. Names will be shared once candidates are moved onto the first round of interviews.