2021 Site Coordinator Symposium Registration is OPEN!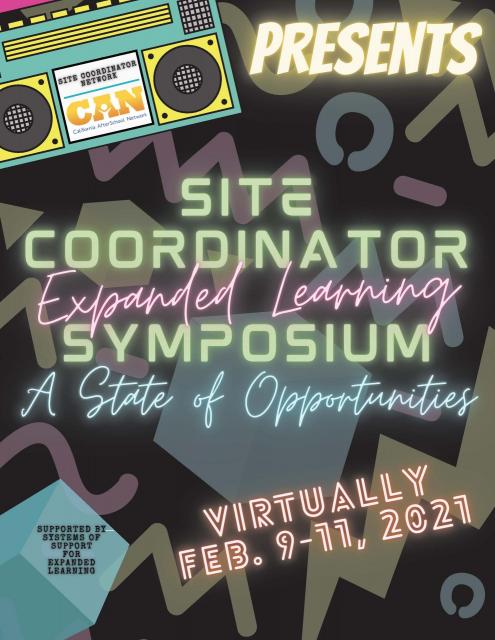 February is almost here, and the 2021 Site Coordinator Expanded Learning Symposium is right around the corner! This year's Symposium will be held virtually, and will provide a variety of innovative ways to learn and engage with colleagues from across the state – you do not want to miss this!
Event Details:
Tuesday, February 9th – Thursday, February 11th, 2021
Event Highlights
Wednesday Symposium Spotlight: Site Coordinator Edition
Sargina Yonan, Site Lead, Anges Baptist Elementary
Xavier M. Barnett, Anaheim Achieves Program Supervisor
Price & Westmont Elementary School
Thursday Symposium Spotlight: Leaders of the Field
Micheal Funk, Director Expanded Learning Division, California Department of Education
Tony Smith, CEO and Founder Whyspeople, Former Illionis State Superintendent of Education; Former Oakland Unified School District Superintendent
Tiffany Gipson, Program Director for Equity and Quality Initiatives, California Afterschool Network
Accessing the Event
This event will be accessible through the CAN app both by computer and mobile devices. All workshops will be recorded and available for attendees to have access to after the event. Visit the CAN app info link to download the app, and access the workshops and virtual activities during the event.
Questions?
Please contact Troy Selvey for all event and registration questions.