Site Coordinator Symposium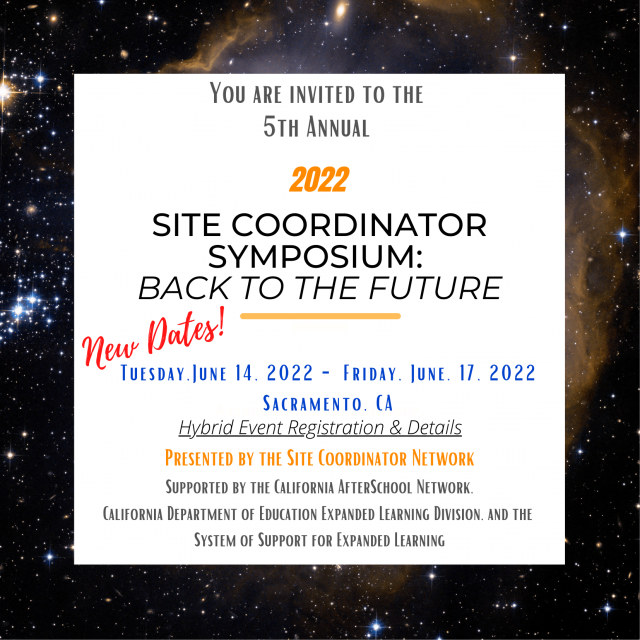 The Site Coordinator Network is excited to announce the 5th Annual, 2022 Site Coordinator Symposium: Back to the Future. This convening will provide hybrid opportunities, either in-person or virtually, from Tuesday, June 14 to Friday, June 17, 2022.
This event is presented by the CA Site Coordinator Network and supported by the California AfterSchool Network, California Department of Education Expanded Learning Division, and the System of Support for Expanded Learning.
California's Expanded Learning Professionals will have a unique opportunity to learn from their peers, colleagues, and other experts during this informative 4-day event. Additionally, partners throughout the state are excited to provide Site Coordinators time to learn from one another. Come and share in the experience and see what opportunities are here for you!
This year's Symposium will be a hybrid experience, with in-person or virtual opportunities. The in-person location will be at the SAFE Credit Union Convention Center in Sacramento, CA.
Virtual: Tuesday, June 14 – Wednesday, June 15, 2022
In-Person: Thursday, June 16 – Friday, June 17, 2022
Check out our updated Symposium Details below!
Symposium Updates (January 2022)
After careful consideration, due to the COVID 19/Omicron variant's surge and impact on communities and the workforce, the California AfterSchool Network (CAN) and the Site Coordinator Symposium Planning Team (SPT) have decided to postpone the hybrid 2022 Site Coordinator Symposium: Back to the Future on Feb 2 – 5. 2022. The new dates will be Tuesday, June 14 - Friday, June 17, 2022. Please see updates below.
New Hybrid Schedule
Virtual: Tuesday, June 14 – Wednesday, June 15, 2022
In-Person: Thursday, June 16 – Friday, June 17, 2022
Location
The 2022 Symposium will continue to be offered as a hybrid convening experience, with virtual opportunities online, and In-Person opportunities in Sacramento at the SAFE Convention Center.
Sheraton Grand Hotel Updates
All lodging reservations for Feb. 2nd- 5th have been cancelled. There are no penalty/cancellation fees.
A new room block link for June dates will be posted as soon as it is available.
2022 Symposium Frequently Asked Questions (FAQs)
We will continue to share updates as they are available. We appreciate your patience and partnership!
What learning opportunities will be offered?
The Symposium will provide attendees the opportunity to build their capacity in the following areas;
Academic/Tutoring
Addressing Adverse Childhood Experiences and Trauma
Attendance Strategies
Bullying Prevention
Career Pathways
Continuous Quality Improvement (CQI)
Diversity & Inclusion
Effective Site Leadership
Equity-driven practices
Health & Wellness
Homework Strategies
Inspiring and Supporting Front Line Staff
Integration w/School Day Behavior Guidance
Leadership Development
Positive Youth Development
Project-Based Learning
School and District Partnership
Service Learning
Social Emotional Learning
Staff Supervision
STEAM
Summer Learning Programs
Team Building
The Quality Standards for Expanded Learning
Using Data to Inform Practice
Visual/Performing Arts
Youth Development
Youth Engagement
Youth Leadership
Who should attend the Symposium?
Site Coordinators
Assistant Site Coordinators
Program Directors
Grant Managers
Technical Assistance Providers
District and County Office of Education staff
Community Based Organization leaders
Site Coordinator Supporters and Champions