Paving the Way: Pathways for EXL Educators into Teaching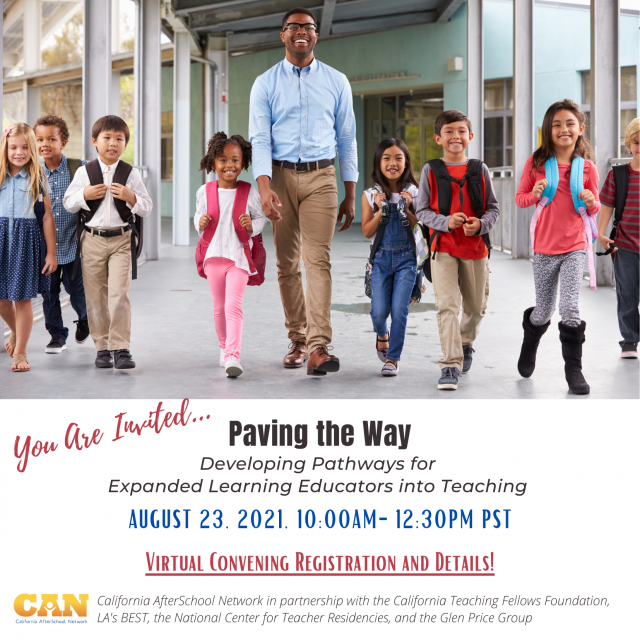 The California AfterSchool Network (CAN) invites California educators and educational leaders of all sectors, to participate in a free virtual convening to learn more about the Expanded Learning Teacher Apprenticeship Pathway Project that CAN has been working on for the past several months in partnership with the National Center for Teacher Residencies, LA's Best, California Teaching Fellows Foundation, and the Glen Price Group.
The Opportunity
As schools and educators gear up to return to in-person instruction and teacher shortages continue to be exacerbated by the pandemic, California is in dire need of well-prepared teachers. The majority of California's Expanded Learning educators—which includes anyone who works in a before or after school program, in a summer program, or in an extended day program —are young, bilingual people of color who come from the same communities they serve and have strong knowledge and abilities in youth development, making them well-positioned to become the teachers of tomorrow.
This virtual Convening includes:
Remarks from state leaders.
Discussion of why and how Expanded Learning educators are well-positioned to become credentialed teachers.
Exploration of potential models for preparing Expanded Learning educators to become high-quality teachers and how these models can support retention.
An opportunity to hear from two Communities of Practice who have been looking at how to make these pathways a reality in their communities.
A chance to review and provide feedback on emerging recommendations for developing expanded learning teacher pathways.