Lights on Afterschool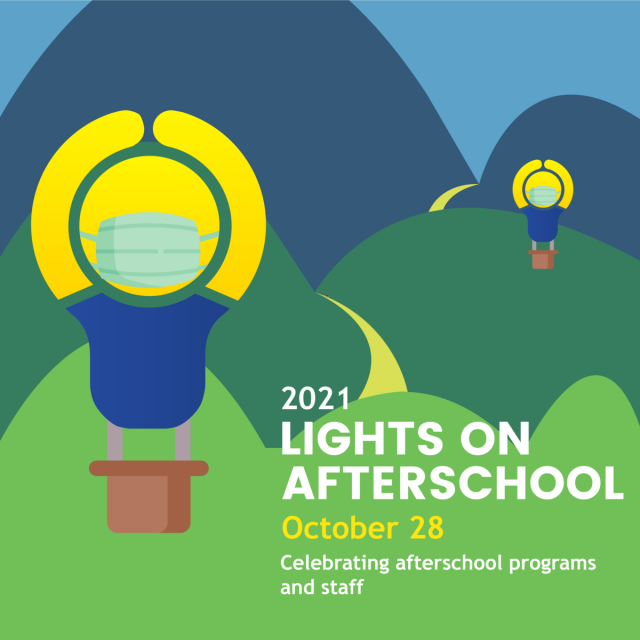 Each October, one million Americans and more than 9,000 communities nationwide celebrate the afterschool programs that keep kids safe, inspire them to learn and help working families.
This year things may be different, but we will still be celebrating all across the state and country. Join the CAN team in celebrating via two statewide virtual celebrations or the many local and national virtual events taking place throughout the week of Oct 19-23.
CA Lights on Afterschool Virtual Celebration
Thursday, October 22, 2020; 11:00 AM
Join the California AfterSchool Network and California Department of Education in a virtual celebration recognizing leaders across the state and our first live fireside chat.

UPDATED: The event will be live-streamed on California AfterSchool Network's YouTube Page (not Facebook) at: www.youtube.com/c/CaliforniaAfterSchoolNetwork
CA3 Lights on Afterschool California Event
Thursday, October 22, 2020; 4:00-5:00 PM
Join the California Afterschool Advocacy Alliance (CA3), the statewide voice for afterschool, in a virtual celebration of our hardworking staff and legislative champions across California.

Hear from students, families, state legislators, and other guests about the important role of afterschool staff and programs across California, especially during COVID-19 school closures.
National Events
We are excited to unveil a week of virtual events from the Afterschool Alliance that bring Lights On Afterschool to you and your students, no matter your circumstances. Just sign up for the events you want, and log in on event day!
We are thrilled about the exciting activities – from STEM to mindfulness to our youth town hall – all designed with our amazing partners for programs, kids, staff, parents, and members of your community to join!
Local Events
Hundreds of programs will also celebrate keeping the Lights On Afterschool with local events – showcasing their programs to the public with youth performances, informational presentations, and other activities highlighting what the programs offer to children and youth. Find an event near you.
Register Your Event Today
Sign up today to be part of the Lights On Afterschool celebration! All who register will receive event planning tip emails and 10 free posters to promote your event. Get more information, inspiration, and promotional materials by visiting the Afterschool Alliance website.