Register TODAY for the 2022 FALL ELO-P Workshop!
Thursday, November 10, 2022; 10:00 AM - 12:30 PM PST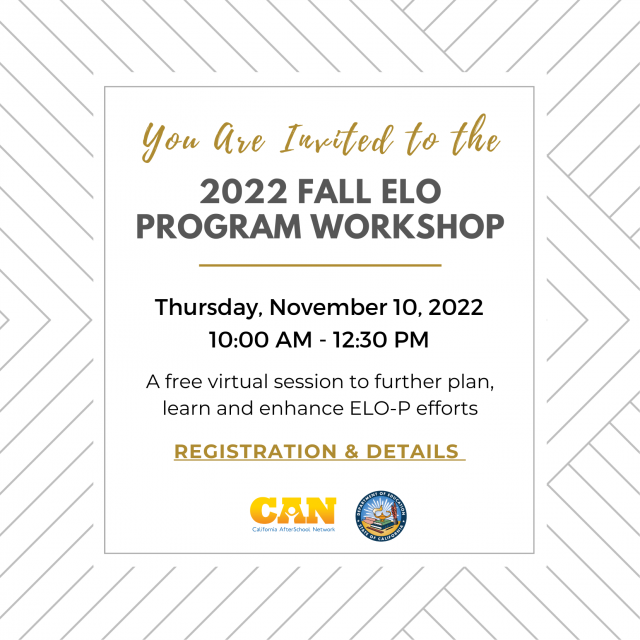 The Fall ELO Program workshop is just around the corner! Space is limited, reserve your spot ASAP!
The California AfterSchool Network (CAN) and California Department of Education (CDE), Expanded Learning Division (EXLD) are excited to offer a free & virtual Expanded Learning Opportunities Program (ELO-P) workshop for CA educators of all sectors. Participants will have the opportunity to further plan, learn, and enhance ELO-P efforts.
Workshop Schedule
The workshop will provide an opening panel, breakout sessions, and an opportunity to connect with regional teams from the System of Support for Expanded Learning.
10:00 AM – Welcome
10:10 AM - Plenary: Inspirational Panel
10:30 AM – Transition
10:35 AM - Breakouts of Various Topics (75 minutes)
11:50 AM – Closing Reflection
12:00 PM – Transition to Regional Meet & Great
12:30 PM – Regional Rooms Closed & Event Adjourned
Breakout Session Topics
Brand New to Expanded Learning
Planning for ELO-P
ELO-P & UTK/PK
Developing Summer/Intersession Programming
Workforce Strategies
Supporting Rural/Small Districts
Building Comprehensive Expanded Learning Programs
Youth Voice and Leadership
Integrating Expanded Learning and other Funding & Initiatives
Access our event webpage for additional information and details.