Registration is OPEN for the AB86 ELO Grant Convening!
Wednesday, May 5, 2021; 9:00 AM- 3:00 PM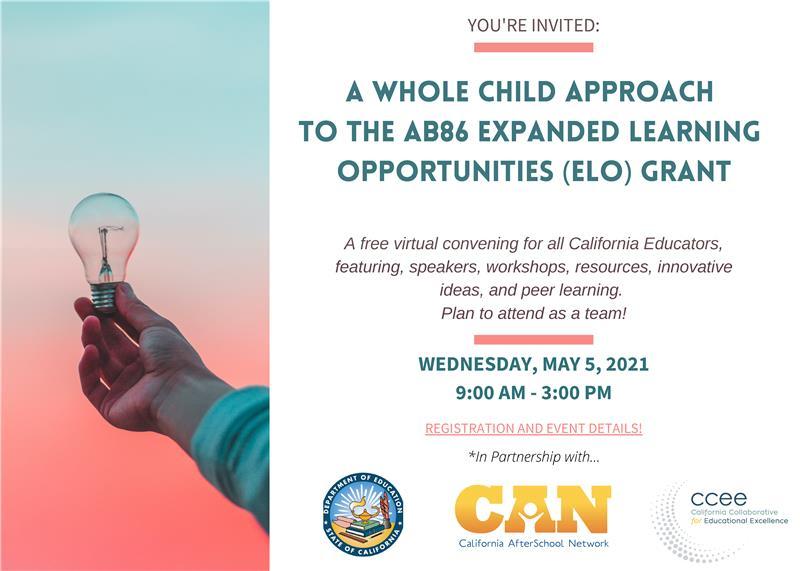 Join us for a convening on A Whole Child Approach to the AB86 Expanded Learning Opportunities (ELO) Grants!
All CA Educators, of all sectors, are invited and encouraged to participate! This free virtual convening is designed to support the CA Educational Ecosystem with state and federal opportunities in supporting children, youth, and communities, with a Whole Child approach.
Space is limited, secure your spot today!
Registration and Convening Details​
Special Guests & Presenters:
Karen Pittman, Co-Founder and Senior Fellow, The Forum for Youth Investment
Michael Funk, Expanded Learning Division, California Department of Education
Superintendents, District Leaders, and Friends!
Alliance for a Healthier Generation
American Institutes for Research
California Children's Trust
California IT in Education
California System of Support Geo Leads
County Offices of Education
CUE
Partnership for Children and Youth
Turnaround for Children
and more to be announced!
Below is a sneak peek of workshop topics:
AB86 Information and Next Steps
Assessment and Data Literacy
Career Technical Education (CTE)
Credit Recovery
Community Building
Community Partnerships
Educator Professional Development
Equity, Quality, and Continuous Improvement
Fiscal Management
Health & Wellness
Homeless and Foster Youth
Mindfulness
Migrant Education
MTSS
Multilingual Learners
Nutrition
Older Youth (High School Programs)
Outdoor Learning
Parent and Family Engagement
Rural Education
Safe and Supportive Environments
Science of Learning and Development
Social Emotional Learning
STEAM
Students with Special Needs
Summer Learning
Technology Integration
Trauma-Informed
Workforce Partnerships
Youth Development
Youth Voice and Engagement
and more!
In partnership with the California AfterSchool Network (CAN), the California Department of Education (CDE), and the California Collaborative for Educational Excellence (CCEE).