ACRES Moonshot Virtual STEM Coach
Application Deadline: Wednesday, November 23, 2022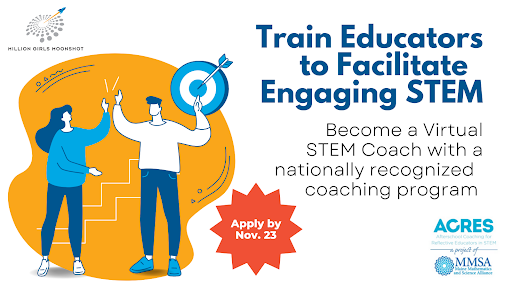 Are you an afterschool leader and looking to build capacity for STEM engagement in your afterschool program? Would you like to train your staff through a live, nationally recognized coaching program?
In partnership with the Million Girls Moonshot, the ACRES team is looking for job-secure afterschool program leaders (i.e. Site Directors, Site Coordinators, STEM Specialists, Professional Development and Training staff) who work directly with frontline staff to be trained to become an ACRES Virtual STEM Coach*.
As an ACRES Virtual STEM Coach, you will build your organization's capacity by training 3 to 6 members of your staff in at least 2 ACRES modules. This is your chance to be part of an educational change on how we train and support educators to facilitate high quality, engaging STEM that reaches all youth.
*Receive a $500 stipend to attend training plus $1000 for every cohort you coach.
Application deadline is Wednesday, November 23, 2022. Register today!