CAN Administrative Assistant Job Announcement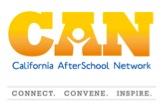 Category: Full-time, Nonexempt (Hourly)
Supervisor: CAN Program Director
Date Created:August 20, 2015
About the Organization:
The California AfterSchool Network's (CAN) purpose is to promote the awareness and quality of expanded learning programs. Utilizing its unique and effective leadership and committee structure, CAN is a convener of the field, facilitating a two-way flow of information between the field and state and National policymakers translating between policy and best practice. Ultimately CAN believes that these efforts will bring greater coherence and professionalism to the field and in turn improve outcomes and learning experiences for youth.
The California AfterSchool Network (CAN) is under new fiscal sponsorship with the Foundation for California Community Colleges (the Foundation) as of spring, 2015. The Foundation, located in Sacramento, has served as fiscal sponsor to a number of educational, government and non-profit organizations. Incorporated in 1998, the Foundation serves as the official auxiliary to the California Community Colleges' Board of Governors and the system-wide Chancellor's Office. With a full-time staff of approximately 130, the Foundation is a fully professionalized organization with expertise to provide efficient back office support to manage grants, contributions, and earned income.
In partnership with the Foundation, CAN is well-positioned to both remain "of the field, for the field" and to create new opportunities to advance its mission. The CAN Leadership Team is excited to work with its new executive director and expanded workforce to solidify and leverage its fresh partnership with the Foundation.
For more information, please visit our website: www.afterschoolnetwork.org.
Job Purpose:
The Administrative Assistant provides a wide variety of functions to support to the Program Director and senior management team of the California AfterSchool Network including but not limited to correspondence, reception, logistics, and general office operations.
Essential Job Duties / Responsibilities:
Provide administrative support by scheduling meetings and conference calls, making travel arrangements, managing the Program Director and Executive Director calendars, drafting correspondence, distributing meeting materials, taking notes, and updating work plans
Responsible for calendaring project events/activities both in the office and across numerous field sites; schedule appointments and manage all electronic calendars connected with CAN's Program Coordinator, Program Director and senior management team
Coordinate conference and meeting attendance for organization staff and partners including CAN Leadership Team members including registration, lodging, and travel
Track conference proposal submission deadlines and provide administrative support for the submission process
Assist with event and meeting logistics (e.g., invitations and RSVPs, meeting room arrangements, catering, AV requirements)
Manage shipping and mailing services for the Program Coordinator, Program Director, and Executive Director.
Maintain office supplies, anticipate needed supplies, monitor and replenish inventory, verify receipt of supplies, and make recommendations to the Program Director for improvements or additions
Work with Finance department to process invoices and expense reimbursements, interact with consultants and vendors regarding invoice questions, and maintain CAN financial records
Organize and maintain paper and electronic files
Work closely with the Program Director and senior management team to track and organize documents through web-based tools (e.g., Dropbox, WordPress, Lucid chart and Basecamp), provide general office support (phones, messages, , ordering supplies) as needed, and coordinate other CAN activities.
Other duties as needed and assigned.
Education, Skills, and Experience:
A minimum of two years working as an office assistant, administrative assistant or similar field required, working in expanded learning time, education or non-profit educational organization preferred
Experience in providing administrative support to complex and diverse projects
Strong customer service skills and knowledge of business/office operations
Strong interpersonal communication skills, organizational skills and exceptional attention to detail
Experience planning meetings, conferences and training sessions with both small and large groups
Strong verbal and written communication skills; experience copyediting or proofreading
Demonstrated experience handling multiple duties and prioritizing successfully
Ability to maintain confidential nature of data and information
Experience with Microsoft Office programs including Outlook, Word, Excel, and PowerPoint
Physical Requirements
Ability to work at a computer workstation for periods up to 4 hours at a time.
Ability to speak on the telephone for a total of up to 6 hours per day.
Ability to sit for up to 8 hours at meetings.
Ability to walk and stand for up to 4 hours without breaks for presentations, meetings, conferences, site visits, etc.
Possess a valid California driver's license, ability to operate personal vehicle for business and willingness to drive to meetings.
Working Conditions and Travel
Well-lighted, heated and air-conditioned indoor office setting with adequate ventilation. Moderate travel (approximately 10%) by land and air. Requires working occasional weekends and weeknights.
Compensation
The salary is competitive and commensurate with experience and qualifications. The excellent benefits package currently includes eleven paid holidays, sick, and vacation leave; medical, dental, and vision insurance, an employee assistance program; and a defined benefit retirement plan (CalPERS).
Application Deadline
Open until filled. Apply no later than 5 p.m. September 11, 2015 to be considered in the initial screening.
Application Procedure:
Email resume, cover letter and salary history/requirements to info@afterschoolnetwork.org. Include "CAN Program Administrative Assistant – (Your name)" in subject line. Due to the high volume of interest, we cannot accept phone calls.
Anticipated Start Date:
October 15, 2015 or as soon as possible.
The Foundation for California Community Colleges is an Equal Opportunity Employer. The Foundation strives to reflect the diverse community it serves.
Applicants who contribute to this diversity are strongly encouraged to apply.