CAN was at the 2022 STEAM Symposium!
Saturday, Oct. 1 and Sunday, Oct. 2, 2022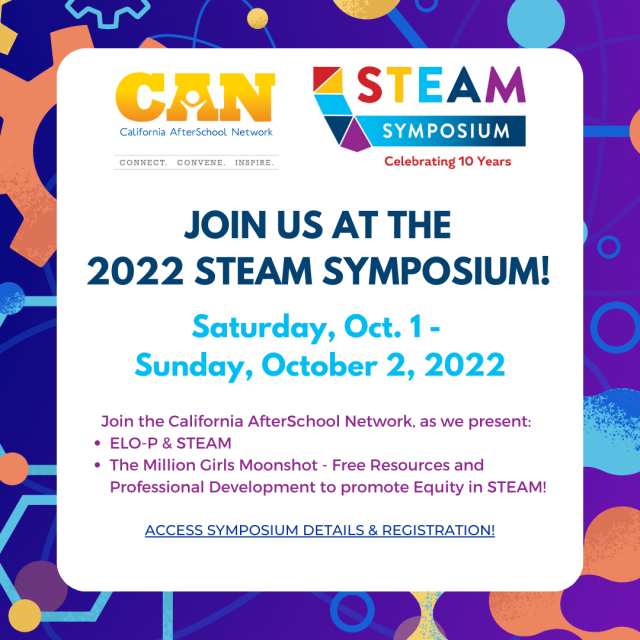 CAN presented and hosted a pre-conference at the 2022 STEAM Symposium in Anaheim, CA! Thank you to everyone who was able to join us!​
If you weren't able to make it to the 2022 STEAM Symposium, no problem! Explore workshop descriptions and resources from the sessions we hosted below:
Workshop Details
"ELOP = STEAM"
Learn how to use your Expanded Learning Opportunities Programs (ELO-P) funding as a way to expand your STEAM offerings, especially to your more marginalized communities. Come and have a conversation with us about how to connect with the Expanded Learning STEAM Hubs in your region and hear about exciting new resources to support creating more equitable opportunities for STEAM in our communities.
"Million Girls Moonshot: Free Resources and Professional Development to Promote Equity in STEAM"
Join us as we seek to re-imagine who can engineer, build, and make. Let's inspire and prepare the next generation of innovators by engaging one million more girls in STEAM learning opportunities through afterschool and summer programs over the next 5 years! This interactive and high-energy workshop will explore resources and professional development to support educators in increasing the quality of out-of-school STEAM learning opportunities for all young people, particularly underserved and underrepresented youth.