Engineer for the Week!
Registration Deadline: Sunday, October 3, 2021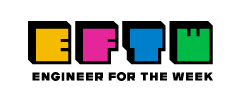 Afterschool Alliance has partnered with Facebook's Engineer for the Week program! EFTW provides a high-quality, cost-free curriculum that helps students ages 11-18 develop computer science skills and explore engineering as they design a prototype to achieve positive social impact.
Registration is now open! To run a one-week EFTW project with your students, register by October 3, 2021. Facebook provides technical assistance for you to run the project anytime from October 4 to December 3, 2021. Because of Afterschool Alliance's partnership with EFTW, programs who partner with them and complete an EFTW project will receive a stipend of $1,000.