Join the Conversation on School-Based Health Centers!
Wednesday, October 6, 12:00-1:00 pm PT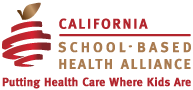 Student Health Index: A New Look at Addressing Health & Education Equity Through SBHCs
The California School-Based Health Alliance will be offering a webinar on the Student Health Index, the first comprehensive statewide analysis to show counties, districts, and schools where new School-Based Health Centers (SBHCs) will have the greatest return on investment for improving student health and education.
This Webinar Aims To:
Provide a "101" on school-based health centers and ways they improve student health and learning.
Release the new Student Health Index and key findings that can help increase the number and impact of school-based health centers.
Discuss how to use the Index to address health and education equity in schools.
Offer first-hand experiences from advocates and experts on the impact of school-based health centers.
Invite questions and inspire action with specific next steps for using the Index in your community.
Who Should Attend?
Education stakeholders and advocates
Local policymakers (Are you state legislative staff? Join a special policy briefing on Wednesday, October 13, at noon.)
Children's health and mental health advocates
Funders and other stakeholders
Speakers:
Tracy Macdonald Mendez & Lisa Eisenberg, California School-Based Health Alliance
Jenn Rader, Director, James Morehouse Project, El Cerrito High School
Irma Rosa Viera, former Youth Board Member, California School-Based Health Alliance