Webinar – Enhancing SEL through Physical Activity
April 2019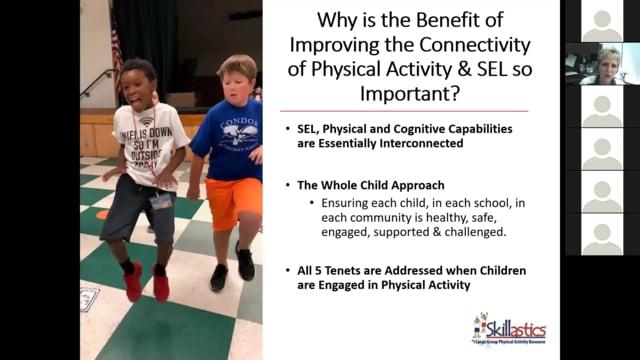 This webinar, hosted by the California AfterSchool Network and Skillastics, looks at how social and emotional learning (SEL) enhances students' capacity to integrate skills, attitudes, and behaviors to deal effectively and ethically with daily tasks and challenges.
A physical active environment is the ideal place to enhance these skills. Whether achieving a personal best in the mile run, competing on a successful team, or dropping a catch during a key play – these are all situations where social emotional learning come in to play.

This webinar expands on the importance of enhancing SEL through physical activity. It will focus on the 5 Core Competencies of SEL and how they are highlighted in many examples of Expanded Learning physical activity lessons.

It also features case studies from 3 prominent Expanded Learning programs throughout the state. Each program will share their experiences on how focusing and developing SEL in physical activity has improved their Expanded Learning program.
Presenters:
Sandy Slade, President/Founder, Skillastics
Heather Williams, Program Director, California AfterSchool Network (Moderator)
Expanded Learning Program Providers

Carl Grino, Program Specialist, San Bernardino City USD, CAPS
Gayle Hui, Program Supervisor, Arvin Schools
Monica Gonzalez-Williams, Region 3, County Lead
Webinar Goals
Participants will:
Gain a better understanding of the 5 Core Competencies of SEL and how they align with physical activity.
Learn how simple and easy it is to implement more physical activity into their program.
Learn from their peers the importance of focusing on SEL through physical activity will help improve their program.
Webinar Audience
Program Directors, Site Coordinators, and Expanded Learning Physical Activity Leaders
Resources
Every participant will receive a handout including the 10 physical activities discussed on the webinar. These activities can be implemented immediately into your program.