Webinar – Partnering with Expanded Learning to Reduce Chronic Absenteeism
Thursday, August 22, 2019; 10:00 AM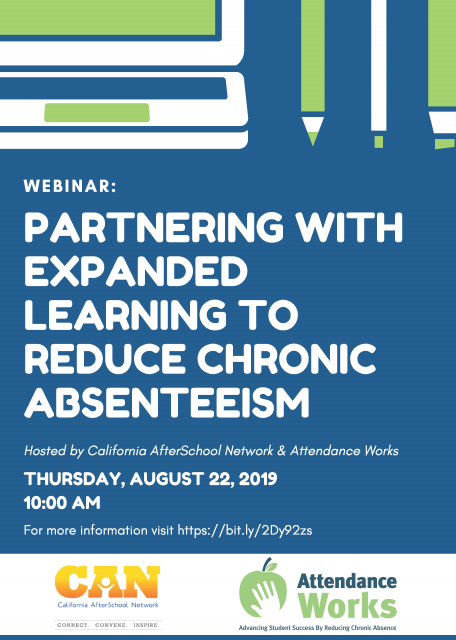 This webinar, hosted by the California AfterSchool Network and Attendance Works, will look at how high quality Expanded Learning programs (before and after school, summer, and intersession learning experiences) help reduce chronic absenteeism.
Presenters will discuss:
what chronic absence is and why it matters,
how California incorporates chronic absence into its funding and accountability systems, particularly through the Local Control Funding Formula and Local Control Accountability Plans, and
how high quality Expanded Learning programs are an evidence-based strategy to reduce chronic absenteeism.
You will hear from Sacramento City Unified School District about their attendance efforts and intentional strategies within Expanded Learning to engage students who need support, resulting in increased attendance in school and after school.
We will share resources and next steps for Expanded Learning programs that wish to intentionally focus on chronic absenteeism and for stakeholders that wish to develop partnerships between the core instructional day and the Expanded Learning program – to keep students attending school and meaningfully engaged after school – ultimately reducing chronic absenteeism.
Registration:
Register Today! Space is limited.
https://cccconfer.zoom.us/webinar/register/98cc8bbea0c4cf5b66858a512be5123a
After registering, you will receive a confirmation email containing information about joining the webinar.
Presenters:
Hedy Chang, Executive Director, Attendance Works
Jeff Davis, Director, California AfterSchool Network
Staci Wendt, Senior Research Associate, WestEd
Marcus Strother, Director, Youth Development Support Services, Sacramento City Unified School District
Jennifer Kretschman, Be HERE Grant Coordinator, Sacramento City Unified School District
Heather Williams, Program Director, California AfterSchool Network (Moderator)