CAN is growing, are you the next member of the CAN team?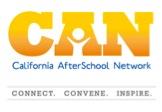 The California AfterSchool Network (CAN) is growing – as our reach expands and sharpens, so will our team.
We are proud to announce that we are currently seeking:
In July, CAN unpacked its boxes in its new home. The CAN Leadership Team is excited to build its team in order implement exciting work outlined in upcoming contracts and grants. It is also excited to leverage its fresh partnership with its new fiscal sponsor, the Foundation for California Community Colleges (the Foundation). In partnership with the Foundation, CAN is well-positioned to remain "of the field, for the field." and to create new opportunities to advance its mission. Are you interested in advancing an inspiring mission in service to the expanded learning field as part of the CAN team? Access the attached job announcements and visit our website for more information. We look forward to receiving your application.