Child Tax Credit Awareness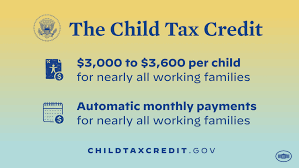 The Child Tax Credit in the American Rescue Plan (ARP) Act, signed into legislation by the Biden-Harris Administration, provides the largest Child tax credit ever to America's working families. Starting July 15, most families are eligible to receive monthly payments of up to $250 per child ages 6-17 and $300 per child under age 6.
Families should visit www.childtaxcredit.gov to learn more about this important benefit, and those that did not file taxes last year can use this tool provided by the IRS to sign up to receive benefits. Most families will automatically receive monthly payments without having to take any action.
The Administration for Children & Families (ACF) has provided a one-pager resource to educate and raise awareness of this significant tax relief for working families. Many families are eligible for this crucial benefit that experts estimate will cut child poverty in half. Roughly 39 million households—covering 65 million children (nearly 90% of children in the United States)—will automatically receive the new Child Tax Credit.
​Resources from the White House
Monday, June 21st at 3 pm ET there will be a Child Tax Credit Awareness Day Community Event with Gene Sperling and other special guests! RSVP here to join. The call will include an overview of the Child Tax Credit, who is eligible, and how families can access direct monthly payments.
Additional Resources: