Expanded Learning Recruitment Flyer Template
Promoting Jobs and Careers in Expanded Learning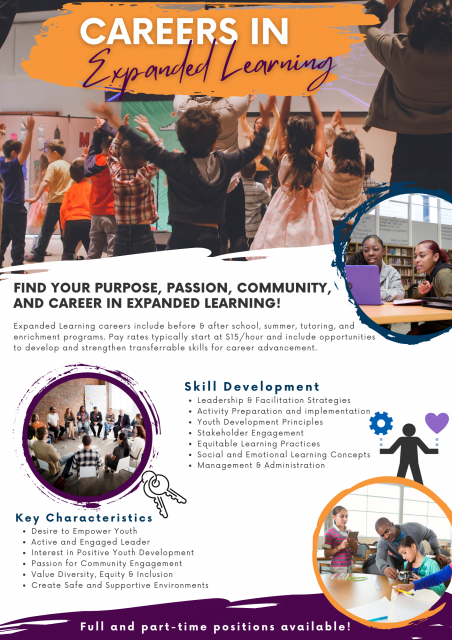 Thank you to the Communications Subgroup of the Rapid Response Advisory Committee (2021) for developing an accessible template with example messaging that can aid recruitment efforts for Expanded Learning positions across the state.
This example flyer was developed to highlight core competencies of Expanded Learning Staff and related career pathways that can support the recruitment of quality candidates interested in giving back to their community!
Link to EXL Recruitment Flyer PDF

Instructions for Editable Template:
Modify the language and highlights included in this flyer to align with your goal
Customize the template to reflect your organization's values and branding
Include icons and graphics that are meaningful/appealing to your target audience
Here you will find the link to an editable version of this template flyer in Google Document format. It's easy to revise the text, substitute different photos, and add logos/icons to suit specific messages and needs. When you are finished customizing your flyer in Google Docs, go to File > Print > Save as PDF to download your tailored design!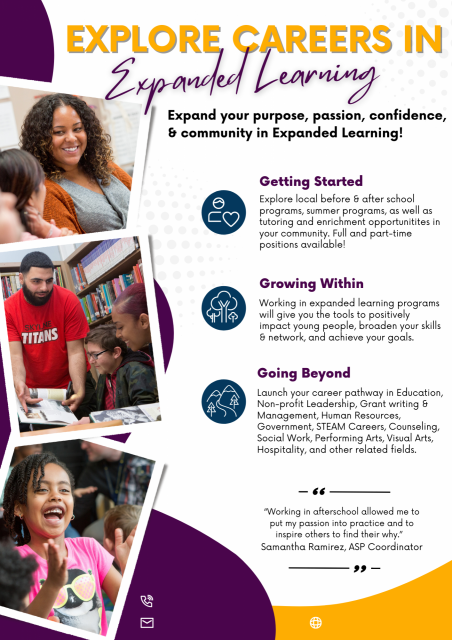 Steps to building a quality recruitment flyer:
Identify the goal of your flyer and relevant information to include/ highlight.
Position summary
Basic eligibility criteria
Site location(s)
Consider your target audience.
Decide where you want to share your poster.
Social Media
Email Blasts
Hiring Platforms
Start with a pre-made poster template like the examples & template included
Free templates are also available on Canva.com
Pick a relevant or branded color scheme.
Use fonts to create a hierarchy of information.
Use icons to visualize concepts in your flyer design.
Include a clear call to action.
How to contact the site for more information (i.e. how to apply)