Governor's May Revise – Big News for Afterschool in CA!
May 14, 2021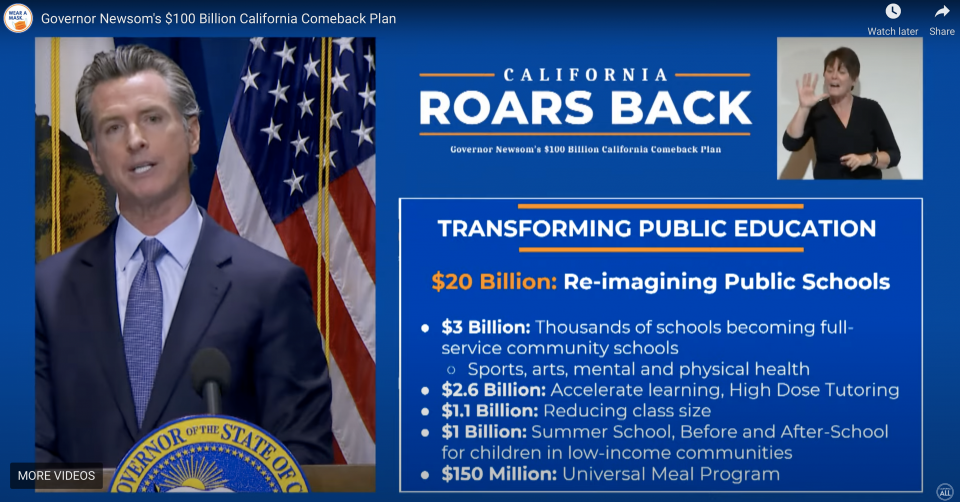 Big news this week!
On Wednesday, May 12, 2021 during a press conference Governor Newsom announced his "Plan to Transform Public Schools into Gateways of Opportunity" with a $20 Billion investment. Today the Governor announced his full May Revision proposal for the 2021-22 Budget.
The plan includes a proposal for $1 billion for summer and after-school programs similar to the existing After School Education and Safety Program. These programs would offer developmentally appropriate enrichment to students, including:
An educational element in which tutoring or homework assistance is provided, and
A supplemental element including, but not limited to, STEM, fine arts, career technical education, recreation, and physical fitness.
Additionally, these programs would be required to maintain adult-to-student ratios of 1:10 for transitional kindergarten and kindergarten students and 1:20 for students in first through sixth grades. The Administration estimates that the Proposition 98 General Fund costs to implement this proposal is approximately $1 billion in 2021-22, growing to $5 billion in 2025-26. Over the implementation period, services would be phased in, with the local educational agencies with the highest proportion of students from low-income families, English language learners, and youth in foster care being provided the ability to access extended day/year programming first.
Additional Funding Opportunities
$3 Billion to convert thousands of school sites into full-service community schools with wraparound mental health, social and family services
$4 Billion over five years to transform the youth behavioral health system
$2.6 Billion to accelerate learning through interventions such as high-dose tutoring
You can find more detailed information by accessing the Educational Summary Budget Detail. Afterschool details are located on "Page 50," the 6th page of the PDF.
We anticipate more updates coming tonight (and maybe over the weekend) as the Budget Trailer Bill and Finance Letters are released.
We will be filming and releasing a fireside chat with Michael Funk Monday morning to talk about the latest details.
Stay tuned!