Groundbreaking Compendium on Expanded Learning Released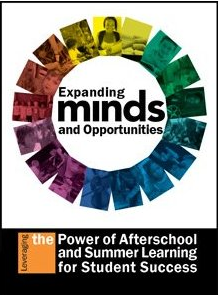 Released on February 5th at the National Press Club, Expanding Minds and Opportunities: Leveraging the Power of Afterschool and Summer Learning for Student Success is a collection of articles on almost every aspect of afterschool and summer learning programs. From the Expanded Learning and Afterschool Project's press release:
This landmark collection of nearly 70 articles is being met with great acclaim, as it presents bold and persuasive evidence and best practices from the field that quality expanded learning opportunities
promote student success and college and career readiness,
build youth assets such as character, resilience and wellness,
foster partnerships that maximize resources and build community ties, and
engage families in their children's learning in meaningful ways.
This compendium is available on for purchase on Amazon.com, but all articles have been made available for individual access and download at the Expanding Learning Web site: www.expandinglearning.org/expandingminds. This Web site is a fabulous resource for anyone looking for the latest research expanded and summer learning.