Whole Child Health and Wellness Launch Update
We've Been Hard at Work!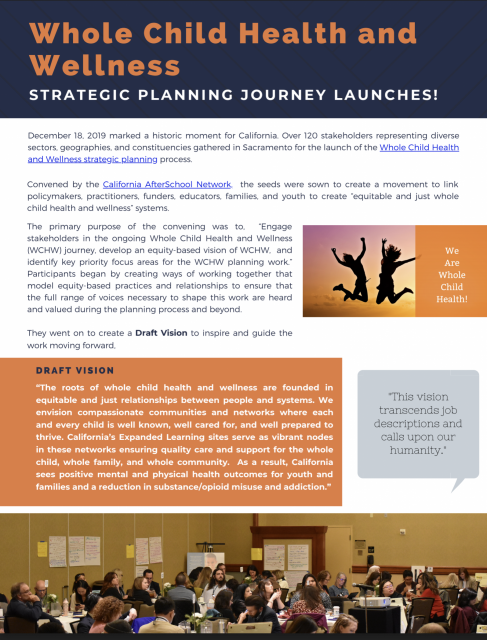 Hello Whole Child Health and Wellness Team!
We wanted to send a quick note to let you know what we've been up to since the December launch of the Collaborative to Advance Whole Child Health and Wellness. It was truly a great day and we have been hard at work since then to build on the momentum of the work accomplished. If you haven't already checked it out (or need a quick refresher) we have put together a brief two-page summaryof the day with links to the full body of notes.
Our Support Team has finalized co-chairs for each of our 7 workgroups based on the priorities identified on December 18 and is in process of identifying workgroup members based on your indicated interest. Those workgroup focus areas include:
Advancing Equity
Healing – Mindset Shift
Strong Narrative
Youth and Family-Centered Program Design and Engagement
Adult Capacity Building / Value Driven Leadership
Multi-Sector/Level Collaboration and Support Systems
Resources
What's happening next?
For those of you who indicated an interest in participating in a workgroup, you will be receiving a follow-up email from us soon with your workgroup assignment! Your workgroup chairs will then follow up shortly after that to set up an introductory virtual meeting with your group. From April – June we will hold monthly virtual convenings with all the workgroups and workgroups will establish their individual meetings as well. As outlined initially, we expect this commitment to be approximately 8 hours per month. In July we will host a final large group convening (TBD if it will be virtual or in-person).
If you are not participating in a workgroup, there will still be other opportunities to stay connected to this work! Be on the lookout for ways to contribute your knowledge and resources to this work. We also hope to connect in person with folks who will be attending the BOOST Conference April 29 – May 1, and will be offering a final large group convening in July.
If you have any questions please feel to reach out to Heather at hwilliams@afterschoolnetwork.org.