California After School Program Quality Self-Assessment Tool
Released in 2009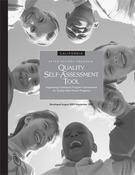 This version of the California Afterschool Program Quality Self-Assessment Tool (QSA) and User's Guide was released in 2009. Programs can use this tool to self-assess their program and make plans for program improvement. The tool focuses on big-picture program design elements and important considerations at the point of service.
Please note that an updated version called the Quality Assessment Tool (QAT) will be released soon. See the post below for details.
Related Content
This document provides an overview of resources and strategies to support a comprehensive and equitable approach to Quality and Continuous Quality Improvement (CQI) for Expanded Learning and other Out-of-School Time (OST) programs. It provides an overview and description of how to use CAN's Quality System consisting of three resources to support the CQI process.
These resources include: