California Afterschool Advocacy Alliance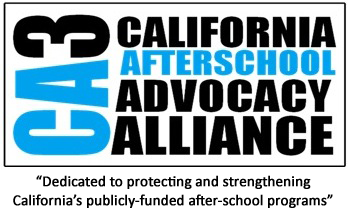 The California Afterschool Advocacy Alliance (CA3) is an alliance of after school providers and advocacy organizations that:
Promote legislative and administrative policies, both state and federal, that enhance the quality and accessibility of publicly-funded expanded learning (after school and summer) programs in California's most underserved communities, and
Build public and policymaker awareness about the essential value and role of expanded learning programs to support student success.
Save After School Campaign
Launched in 2015, the campaign to Save After School is a coalition of after school providers, advocates, families, administrators, educators, law enforcement officials, and other allies from across California. Together, we advocate for the resources that after school programs need to continue to deliver high-quality activities, services, and support to over 860,000 children and youth across the state.
More than 2,400 Californians joined the Save After School Campaign and took action to achieve the first increase in state funding for after school in over a decade, including school districts, county offices of education, cities, families, after school staff, sheriffs, chiefs of police, district attorneys, businesses, and advocacy organizations.
The Save After School Campaign is led by the California Afterschool Advocacy Alliance (CA3)
Access the Save After School and CA3 resources here:
Members
Resources