ELO Program – Office Hours
May - July 2022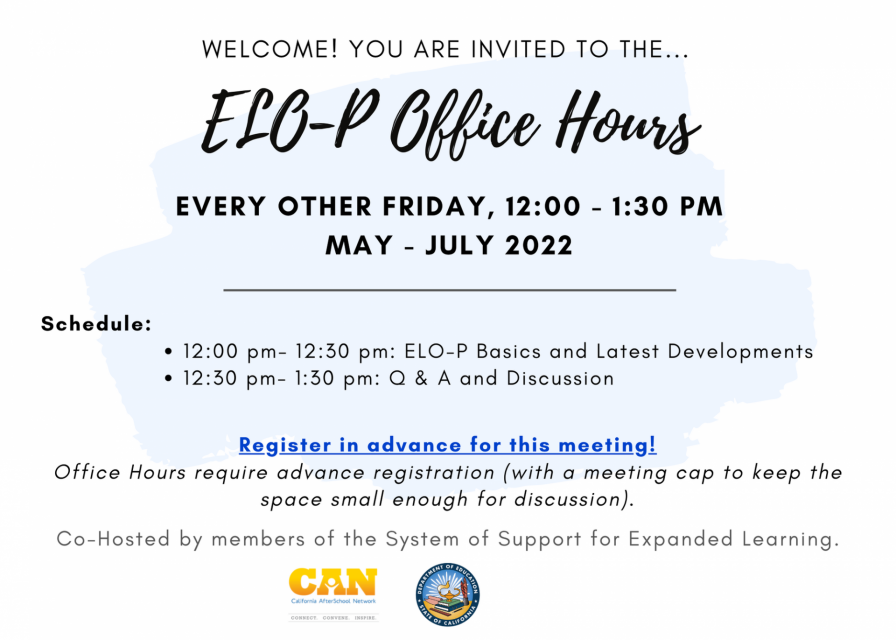 The California AfterSchool Network (CAN) in partnership with the CA Dept. of Education (CDE) Expanded Learning Division (EXLD), and other members of the System of Support for Expanded Learning are hosting ELO-P Office Hours!
Every other Friday from 12:00 PM – 1:30 PM, starting May 27, 2022 through July.
The first 30 minutes of the office hours will include some ELO-P basics, and the latest updates.
The remaining hour will be a time for Q&A and discussion.
Registration:
This event occurs in the past and registration is closed.
Please note you will need to register for each office hours session separately. There is a meeting cap as we are trying to keep the space small enough for generative discussion. Please consider only registering for one or two sessions that work best for your schedule and canceling your registration if you can no longer attend.
After registering, you will receive a confirmation email containing information about joining the meeting.
If subsequent office hours are needed after July additional registration information will be provided.