A Hub of Community Resilience: California's Expanded Learning Programs Respond to Crisis
A State of the State Brief: December 2020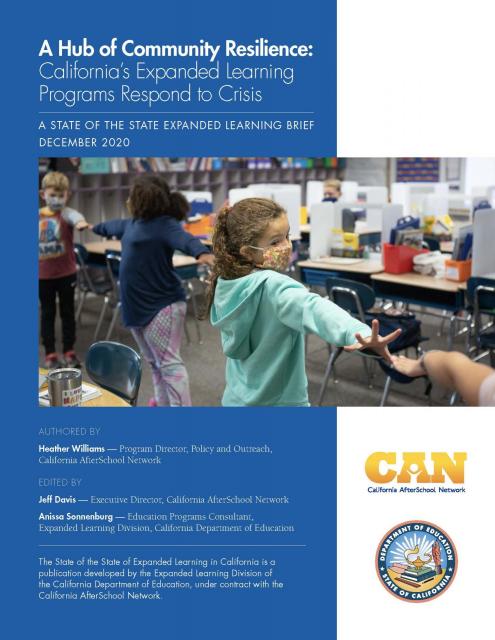 This State of the State Brief provides a high-level overview of the public investment in the Expanded Learning Infrastructure in California and how that system has been leveraged to respond to crises in the state, in particular the COVID-19 pandemic. Expanded Learning programs are a critical partner to help California respond to crises and ultimately build back stronger. Pandemic or not, Expanded Learning programs need equitable and sustainable funding to ensure the economic success of young people and their futures, as well as the progress of California. An investment in Expanded Learning is an investment in our youth, our families, and our communities.
As the country, and world, is faced with multiple crises and disruption (COVID-19 Pandemic, growing economic disparities, ongoing racial injustice, etc.) many have called for us to not waste this opportunity to reimagine our education systems to better benefit our children, youth, and ultimately communities. Expanded Learning programs continue to be elevated as a crucial partner in reimagining our systems. These programs are better equipped to deal with crises, engage communities, and often provide critical wraparound services. More than that, Expanded Learning programs are about relationships and bringing the community into schools to act as a collective when action is needed.
If you are interested in print copies of this publication or otherwise have questions related to the State of the State please contact Heather Williams at hwilliams@afterschoolnetwork.org.