Join a Town Hall Conversation with Jeff Davis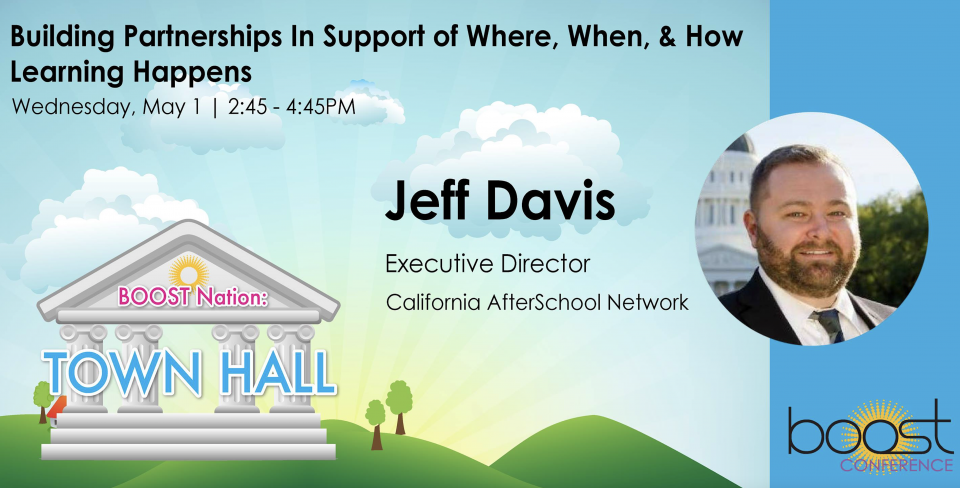 Jeff Davis will be leading a Town Hall with national leaders discussing the new report, A Nation at Hope by the Aspen Institutes National Commission on Social, Emotional, and Academic Development.
*Don't feel like reading the full report before the Town Hall? Then check out Jeff's BOOST Breakfast Blog where you can get a quick recap.
Building Partnerships in Support of Where, When, & How Learning Happens
Wednesday, May 1
2:45 PM – 4:45 PM

Jeff Davis, Executive Director, California AfterSchool Network, Sacramento, CA; Priscilla M. Little, Senior Consultant, The Forum for Youth Investment, Washington, D.C.; Deborah Moroney, Managing Director, American Institutes for Research, Chicago, IL; Dan Gilbert, Senior Project Manager, SEL Specialist, The Afterschool Alliance, Washington, D.C.
Building on the work of the National Commission on Social, Emotional, and Academic Development, this Town Hall will explore how we can expand equity when we build partnerships across school, community, and youth development partners in support of where, when, and how learning happens. Discussion around strategies for how youth development organizations and schools can partner to support the integration and alignment of social, emotional, cognitive, and academic development practices across settings as well as a call to action for PreK-12 education stakeholders to form more strategic partnerships with the youth development sector to support holistic development and success for each and every student.
ULA, MLA, DS, CB, PK, E, M, H
Strand: BOOST Nation: Town Hall
Workshop Room: Madera