Lights On Afterschool Illuminates Campaigns to Increase Funding for ASES Programs and preserve 21st CCLC programs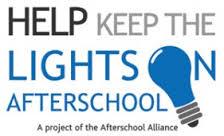 October 22, 2015 is Lights on Afterschool! Each October, millions of Americans in thousands of communities across the nation celebrate afterschool, expanded learning programs that keep kids safe, inspire them to learn and help working families. Register your celebration and be counted in the thousands of nationwide celebrations. Make California a leader in Lights On Celebrations!
This year, we have an opportunity to use this event to shine a bright light on our collective need to increase funding for After School Education and Safety (ASES) Programs. The funding formula for ASES programs has not changed since 2006, while program implementation has become more costly due to state-imposed wage increases, mandatory sick leave benefits, as well as increases in the cost of living. Invite your state legislators to your celebration. Use the State of the State of Expanded Learning in California and the attached talking points to communicate the importance of bringing the ASES appropriation into alignment with the 2015 economy to local media, elected officials and other key stakeholders in your community.
Your Federal Legislators will be in their home districts during Lights on Afterschool! Federal Legislators will be determining the future of the 21st Century Community Learning Centers as part of No Child Left Behind Reauthorization.