Resources to Support a Lights On Afterschool Celebration!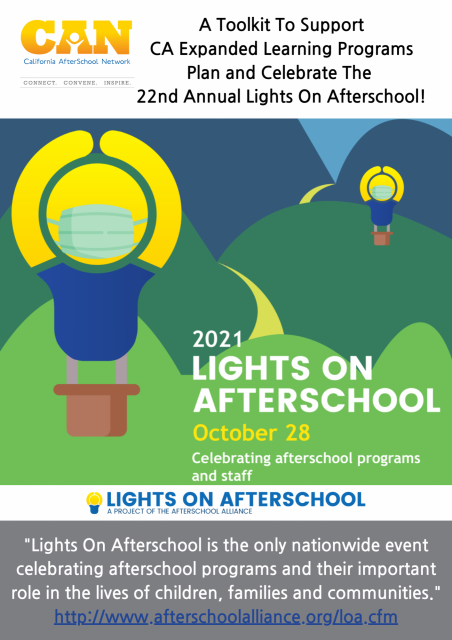 Access a PDF of CAN's Lights On Afterschool Toolkit!
Resources to Help Plan Your Event
Social Media, Images, and Graphics
Academic &Youth Development Themes
Afterschool Staff Appreciation
Despite the uncertainty and challenges of this year, afterschool programs rose to the moment – supporting students & families by providing needed meals, childcare for essential workers, and high-quality virtual learning experiences when schools were forced to close.
On October 28, we're helping to shine a light on the important role of afterschool programs in our CA communities - and you can too!
STEM
​More than 70% of students in #STEM afterschool programs reported positive gains in science career interest and knowledge & building skills such as perseverance and critical thinking.
Data science, creative computing, environmental education—STEM learning is happening in afterschool. Let's celebrate!
#LightsOnAfterschool is a chance for the whole community to learn about STEM! Afterschool programs in California held a "Physics of Mini Golf" festival where youth designed their own mini-golf courses and explored physics subjects like force, friction, and Newton's Laws!
Use your open house to open minds! #LightsOnAfterschool is a chance to showcase STEM activities to the whole community, from making slime to building circuitry and beyond.
Social-Emotional Learning
Host a yoga night, play mindfulness games, or encourage students to write essays about the changes they hope to see in their communities!
Hosting a #LightsOnAfterschool event is a great way to encourage students to build on their social and emotional skills while bringing awareness to the impact afterschool makes in our communities!
High-quality #SEL-focused afterschool programs offer students an opportunity to build on critical social and emotional skills in an engaging setting with fun activities and caring adult mentors. Help us celebrate all that afterschool programs do to help students be the best versions of themselves by hosting an SEL-themed Lights On event!
Afterschool and summer learning programs offer a unique setting where youth can connect to positive adult mentors, feel safe to try new things, and have the opportunity to build critical #SEL skills. Raise awareness for #SEL in afterschool by hosting an SEL themed Lights On event
Health & Wellness
Afterschool programs keep kids safe & promote positive habits during the hours they are most at risk of engaging in risky behaviors. Help amplify their impact with #LightsOnAfterschool
From nutritious meals to team-building physical activity, afterschool programs promote health & wellness in tons of ways! Show your support and get active for #LightsOnAfterschool this year!
The possibilities are endless: host a fun run or walk-a-thon, play a game (or three!) of kickball, or create your own mini-Olympics with cornhole, soccer, touch football, and more!
Youth Voice
Town Halls: Afterschool provides youth with the opportunity to connect with their voice and pursue the change they wish to see in their community. Join us & 1M Americans for #LightsOnAfterschool and shine the spotlight on your students
Showcase Youth Work and Projects
Youth are key to community change. Shine a light on students in your community by featuring youth voice during #LightsOnAfterschool, America's only nationwide showcase of afterschool. It's a great opportunity for youth leaders to take center stage and share what's important to them.