2023 Site Coordinator Symposium Announcements!
August 26, 2022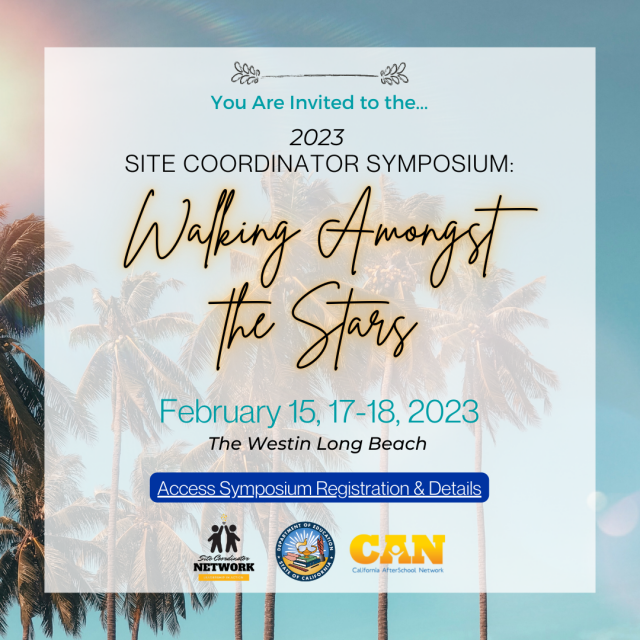 The Site Coordinator Symposium is an annual convening designed to support CA Site Coordinators and Expanded Learning (EXL) / Out of School Time (OST) educators and partners with a unique opportunity to learn from their peers, colleagues, and other experts in the field. This event is presented by the California Site Coordinator Network and supported by the California AfterSchool Network, California Department of Education Expanded Learning Division, and the System of Support for Expanded Learning.
2023 Symposium Updates
1. The 2023 Symposium will provide hybrid opportunities, both in-person and virtually.
Virtual Symposium: Wednesday, February 15, 2023
In-Person Symposium: Friday, February 17 - Saturday, February 18, 2023
*Schedule is subject to change.
2. Early-Bird Registration is Open - Register Today and don't miss out on the FUN!
Early Bird Registration closes on September 30, 2022
General Registration will open on October 1, 2022
But wait, there's more!
3. The 2023 Symposium will be held in Southern California at The Westin in Long Beach. The Room Block is also open, secure your hotel accommodations today!
The Westin Long Beach
333 E Ocean Blvd (at Long Beach Blvd)
Long Beach, CA 90802
Room Block Details:
Start Date: Monday, February 13, 2023
End Date: Tuesday, February 21, 2023
Last Day to Book: Thursday, January 26, 2023
Special Group rate: 189 USD – 199 USD per night
Community Ideation
Lastly, we live and breathe CQI – Continuous Quality Improvement. We want to hear from you about what you want to see and experience at the 2023 Symposium. What workshop topics do you want to be offered? What guest speakers might you recommend? Who are potential Partner Sponsors we might connect with?
Our Symposium Planning Team (SPT) is meeting regularly to plan a high-quality and energetic 2023 Symposium. Please visit our event webpage as we will continue to share details.
We look forward to connecting and learning with you. Please contact our Symposium Support Team for any questions or support needed.
In Partnership,
The California AfterSchool Network (CAN) and the Symposium Planning Team (SPT)