Site Coordinator Symposium & Planning Team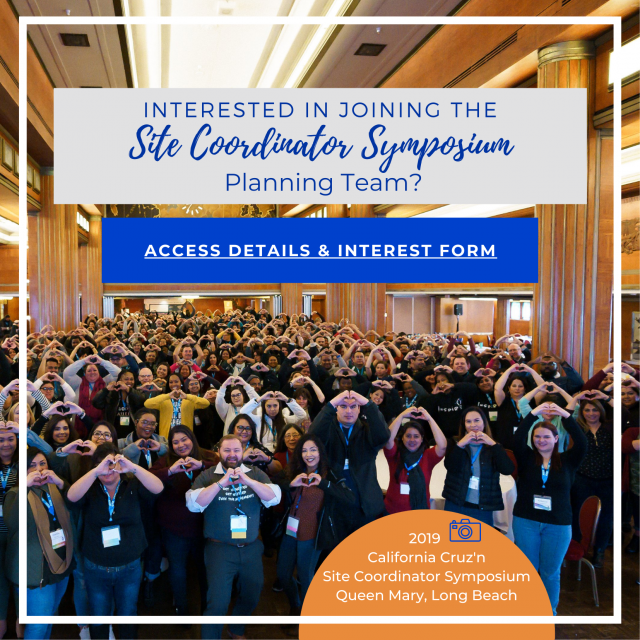 Site Coordinator Symposium
The Site Coordinator Symposium is an annual statewide event that's purpose is to convene Site Coordinators and those who support them. This event serves as a space for Site Coordinators to come and connect, share, and learn from their peers and other partners within Expanded Learning.
This event is presented by the California Site Coordinator Network (SCN) and supported by the California AfterSchool Network (CAN), the California Department of Education Expanded Learning Division (EXLD), and the System of Support for Expanded Learning (SSEL).
For additional information, please visit the Site Coordinator Symposium website.
Symposium Planning Team
The Symposium Planning Team (SPT) is a diverse group of leaders who volunteer their time and work collaboratively to support the Site Coordinator Symposium. The SPT meets on a regular basis to creatively plan and execute this convening.
Commitments of the SPT
Attend and engage in monthly SPT meetings.
Dedicate 2-3 hours a month.
Contribute to a collaborative environment.
Active engagement in design and promotion.
Amplify authentic experiences.
Benefits of Joining the SPT
Leadership Development
Networking Opportunities
Capacity Building
Field Representation & Influence in Design
Participation in Statewide Convenings and Events
Experiential Skill-Building
If you are interested, please access our SPT Interest Form