STEAM Newsletter – Disability Pride Month
July 18, 2023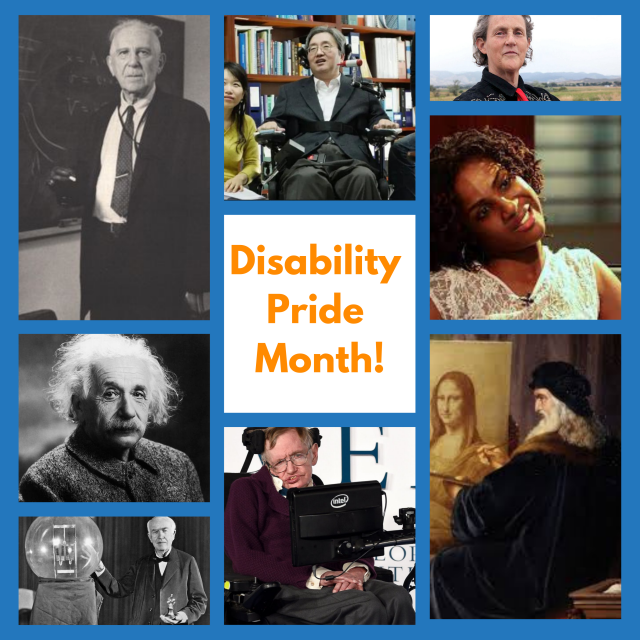 July is Disability Pride Month! We celebrate those with disabilities and their contributions to STEAM and our communities. The Americans with Disabilities Act (ADA) was signed into law on July 26, 1990. Every July we celebrate Disability Pride Month to commemorate the passage of this landmark civil rights law. It's important to remember that there are numerous types of disabilities such as physical, learning, and neurological disabilities, and they aren't always visible. We celebrate STEAM professionals with disabilities and their contributions to our society! Here are a few famous disabled STEAM pioneers to inspire us all:
Leonardo da Vinci (1452-1519): Polymath, artist, engineer, and scientist known for creating the Mona Lisa, mirrored writing, and had erratic handwriting due to what people believed was dyslexia.
Albert Einstein (1879-1955): German theoretical physicist known as the "Father of Modern Physics", suffered from Einstein Syndrome, characterized by late speech.
Farida Bedwei (1979-Present): Software engineer born in Nigeria and based in Ghana is known for her work developing and deploying mobile banking applications, lived with cerebral palsy from a young age.
Temple Grandin (1947-Present): American scientist and autism advocate known for her contributions in animal behavior, was born with autism.
Solomon Lefschetz (1884-1972): A mathematician who's limbs were destroyed in an accident at work, contributed to algebraic geometry.
This is a short list of many people living with disabilities making big contributions to STEAM. Others not listed include Stephen Hawking, Thomas Edison, and Sang-Mook Lee! Click here to learn more about their contributions and about others in the field.
Check out these additional resources!