California Expanded Learning Summits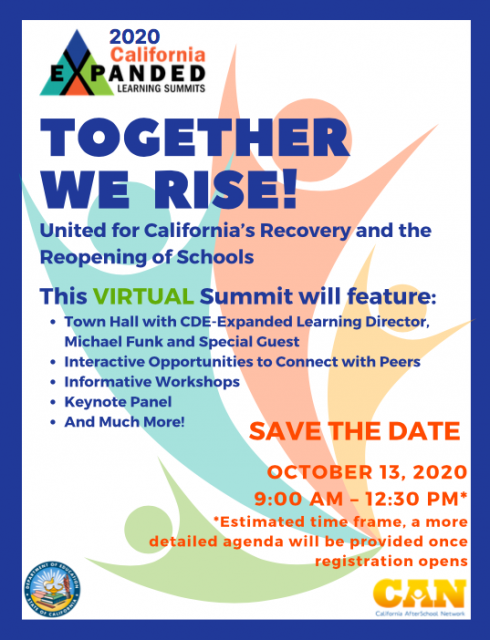 This event is virtual – Registration will open soon!
Event Details:
October 13, 2020
9:00 am – 12:30 pm
Features:
Town Hall with CDE-Expanded Learning Director, Michael Funk and Special Guest
Interactive Opportunities to Connect with Peers
Informative Workshops
Keynote Panel
And Much More!
The Virtual Expanded Learning Summit welcomes After School Education and Safety (ASES) and 21st Century Community Learning Centers (21st CCLC) program grantee staff, stakeholders, partners, and K-12 educators, administrators and leaders to attend the 2020 Virtual Expanded Learning Summit for an informative opportunity to attend an informative and uplifting day dedicated to the theme, Together We Rise: United for California's Recovery and the Reopening of Schools.
The Virtual Summit will include a Town Hall with Michael Funk and Special Guest, a Keynote Panel and a series of opportunities to connect and share promising practices and expertise with of K-12 and Expanded Learning champions from across the state. There is no cost to attend this event and space will be limited. Registration will open shortly – sign up for the CAN newsletter to be the first to know!
For more information or for any questions, please contact Paige Bellanca at pbellanca@afterschoolnetwork.org